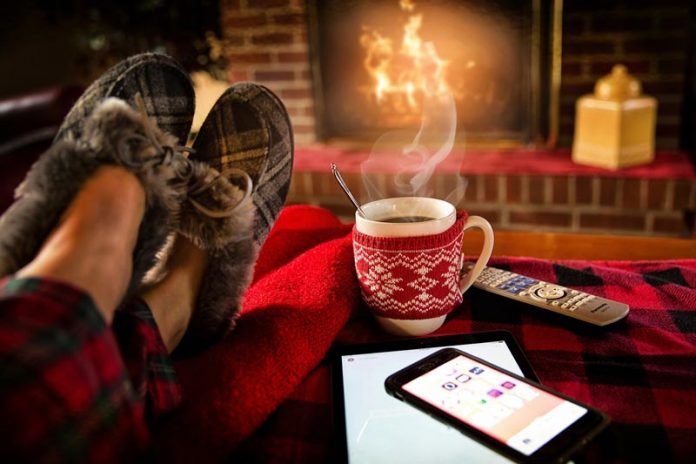 How to Make Your Home Cozy : The cold months call for a warmer home. You need to make your abode cozy but, of course, still stylish. However, buying items to spruce up the home is expensive—or so you thought.
A cozy living space doesn't have to cost a fortune. You'll be surprised at how the littlest things create a major impact to your home. All you need is a dash of creativity and you'll be ready for snuggles in no time.
Here are seven smart tips and tricks to cozy up your home.
Paint the walls warm


Colors illicit a certain response from people, and you can certainly use colors to transform a room's ambience.

To make your home feel more inviting, paint the walls a warm color. We recommend neutral browns, yellows, and oranges. If you're looking into a more minimalist color, try an eggshell or peach color. You might want to steer clear from gray, as it's more on the cooler spectrum.

Establish a Cleaning Routine

Make your home more than just a place for sleeping. It should be a sanctuary where you can relax at any time of the day. There's nothing more refreshing than going home to a clean living environment after a long, stressful day at work or running errands.

You don't have to be an obsessive-compulsive cleaner, though. Just set up a cleaning routine that can work around your schedule, and you're good to go. Get the right window-cleaning tools, like sponges, squeegees, and mops. Prepare them right from the start to save time and money.

Thick drapes are what's in


Ditch the sheer linen curtains. You'll need to bring in the heavy drapes to make your home warmer and in-season.

Avoid hanging brightly colored curtains. Go for the dark ones, as they give off a more comfy vibe.

Another tip is to use thicker curtains for windows facing direct sunlight all day. Meanwhile, use warm-toned drapes on windows facing the other direction. This trick will brighten up the room just right.

Layer up


Nothing spells cozy than layers—and lots of them.

Layer furniture with pillows and blankets to make your nook irresistibly inviting. Finally, it's the perfect time to bring out your most fluffy pillows without anyone judging you.

If you can't be bothered with additional pillows, you can always change the pillow covers into furrier ones. Add in a knit or a velvet blanket and you're up for a snuggle-fest with the family.

Bring in the rugs


A patterned rug doesn't just add texture to a room. It's also a great tactic to add warmth and comfort to your nook.

It literally warms up the space as it keeps in heat on bare floors. No more cold feet in this home!

If you don't have a giant area rug, try adding smaller rugs in certain areas of your space. The best spots are where you hang around the most, like the bed, the sofa, or the coffee table.

Don't know which rugs to get? We recommend natural fiber rugs, knit wool, and faux fur ones. The furrier the better, if you ask us!

Lighting matters


Lighting plays a huge role in creating a room's ambience.

If you're going for the cozy route, it's best to avoid fluorescent overhead lights. Instead, use table or floor lamps. And make sure they come with dimmers! Dimmers let you tone down the lighting or ramp it up when need be.

A trick to instantly cozy up your home? Replace cool-toned bulbs with warmer ones.

Create a cozy nook


Make your Pinterest dreams come true and build yourself a nook. It's a part of your home where you can relax, read a book, sip hot chocolate, or listen to your favorite tunes.

You can designate a nook anywhere you want. It can even be a favorite chair by the wall. Just throw in a cuddly pillow, drape a fuzzy blanket—et voila!

If you want to go the extra mile, consider revamping the basement into your comfort nook. Clean it up, put some furniture in, install an effective upflush toilet, and you get yourself a "secret" hideaway.

Warm it up


You'll need a little help warming up your room. Light up the fireplace and let the warm glow emanate the entire space.

If you don't have a fireplace, consider lighting candles. They instantly transform the mood with their romantic glow. You may even get the scented ones to add a soothing fragrance to the room.

If the sound of that doesn't make you feel cozy on the inside, I don't know what will!
Conclusion
There are lots of ways to make your home warm and cozy. But the icing on top is definitely time well-spent with family and loved ones. Nothing beats keeping warm together in your humble abode.
Related Videos about How to Make Your Home Cozy:
8 Ways to Create a Cozy Home
HOW TO MAKE YOUR HOME COZY
Cozy Up Your Home | Simple Tips
Creating A Cozy Zone | Decor Tips + Tricks
7 WAYS TO CREATE A HYGGE HOME | cozy home ideas & inspiration
10 TIPS TO MAKE YOUR HOME MORE COZY!!
How to Make Your Home Cozy
how to make your home cozy on a budget, how to make your home cozy for winter, how to make your house cozy and warm, what makes a home comfortable?, how to make a big house feel cozy, how to make your kitchen cozy, how to make a house homely, how to make your apartment cozy,