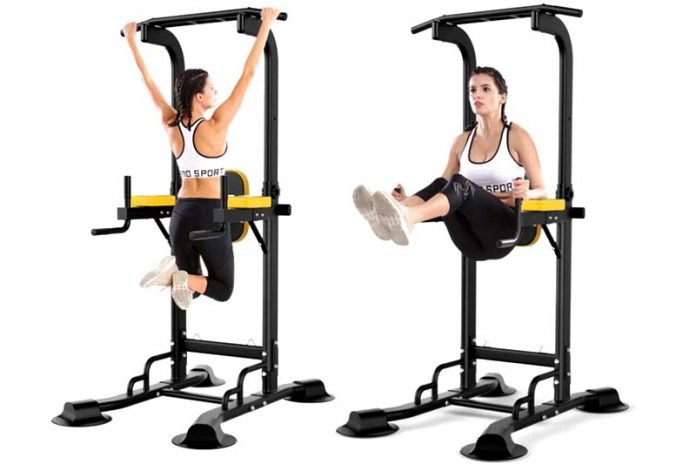 What To Consider When Choosing Power Tower Machine For Home Gym : For starters, let's accept the fact that with all the growing junk food chains and the "fake" organic products being sold in the market, people need to take some measures to ensure good health. And that measure is, of course, some "exercise".
Yes, you read that right! Exercise is the only thing that can save people right now, and it's not only for those who are obese and overweight, in fact, it's also imperative for those who are slim and lean.
No physical activity is the root cause of diseases. You start sitting on the couch 24/7, watching movies, and eating food, and within no time, you'll be diagnosed with a health condition because that's something quite common nowadays.
Speaking of exercise, if you don't have the kind of money and time to hit the gym for 2-3 hours a day and if you want something that's low in budget and accessible in your home, then opt for a power tower machine. Having a power tower machine means you'll be able to workout in the best possible way without worrying about time. Whenever you are free and are ready for some workout, head to that machine in the house, and then try different exercises on it.
But before you buy a power tower machine, here are a few things you should take into consideration first;
Sturdiness


The very first thing to consider before buying a power tower machine is the sturdiness. This is something you should consider even before the budget because if you buy a lightweight machine, it won't be of any use to you as it won't be able to carry your body's weight. To know about the sturdiness, you don't have to visit different shops, in fact, all you have to do is to read online reviews and see what people have to say. Just type "Best power tower reviews" on Google, and you'll have the results right on your screen. Home Fitness Guru also put together a comprehensive buying guide that might help you.

Budget


The next one to consider is the budget. A power tower machine can vary a lot in prices, so it would be better if you decide on a budget before time. Once you know the figure you are ready and comfortable to spend on this equipment, it will be easier for you to stick with it and then look for a machine that's in your range.

The Complexity


Some power tower machines are too complex, and if you are a beginner, it would be better if you stick to the basic one that's easy to use. For exercising on a power tower machine, just use the internet, and you'll have a lot of options pop up on your screen. Choose the one that appears easy to you.

Durable Material


Opt for the power tower machine that is made up of durable material, and here we aren't only talking about its structure, in fact, we are talking about the padding, the grip, and even the back pad. This is important because you don't want to end up buying something that's low in quality and has a lot of wear and tear in a few months, right? If yes then do proper research and then buy a power tower machine that you know is worth your money.
Conclusion
These are some of the main things you need to consider before buying a power tower machine for your home gym. These things are important, so don't miss on even a single one of them because, as said earlier, you wouldn't like the idea of spending so much money on something that gets destroyed real soon.
Related Videos about What To Consider When Choosing Power Tower Machine For Home Gym :
Power Tower: Best Power Tower 2019 (Buying Guide)
Exercises on a Vertical Knee Raise & Dip Station Power Tower : Personal Fitness
Power Tower Abs Burnout by MAX Training
Power Tower Circuit Workout
What To Consider When Choosing Power Tower Machine For Home Gym
power tower home gym, are power towers any good, power tower in apartment, best power tower 2019, power tower gym, best power tower with bench, kingkang power tower review, fitness towers,