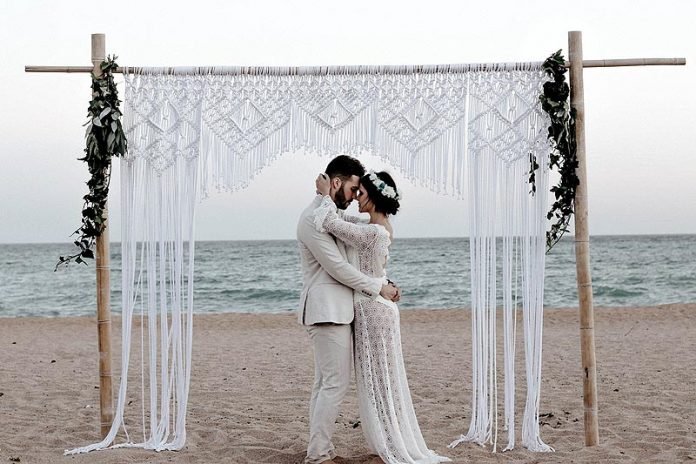 10 Wedding Themes That Totally Break Tradition in All The Right Ways : If the idea of wearing a strolling down the church aisles in a big white gown while the Wedding March plays doesn't really send butterflies through your belly, don't worry! You can have the wedding of your dreams with one of these unique wedding themes that totally break tradition (in all the right ways)!
Reverse Black and White Wedding

If you want to incorporate traditional wedding colors (black tux for the groom, white dress for the bride) but prefer something a little different, flip it around! Put your groom in all white and wear that beautiful black dress you've been eyeing. Take it to extremes by asking all of your guests to wear either black or white. If you're worried it'll look too washed out, choose a single color for your flowers. Red goes beautifully with black and white, but any color works, too.

A Wedding with a Cause

Lesbian Wedding

Passionate about ending world hunger, preserving the planet for future generations, or supporting LGBT causes? Use that passion to throw a wedding with a cause! In lieu of gifts, you can ask guests to donate food or "adopt" a species from the World Wildlife Fund. For an eco-friendly wedding, select green as one of your wedding colors and request either earth-friendly gifts or a donation to your favorite environmental cause.  For a same-sex wedding with two brides, you may ask friends to bring lesbian gifts that support LGBT causes or donate to a local Equality Alliance.

An Icy Cold Destination Wedding

If you think destination weddings are only for beach babes and sunbathers, think again! Break with the tropical tradition and whisk your guests away to a totally unexpected location, like the Icehotel in Iceland! There is something totally magical about getting married beneath the Northern Lights! If a trip to the other side of the globe isn't in your budget, hit the ski slopes for a winter wedding a little closer to home.

Around the World Wedding

Around the World Wedding

If you can't afford a destination wedding, bring the destination to you. Scratch that, bring all the destinations to you! Make wedding decorations out of maps, use beautiful old suitcases to hold your flowers, and serve a "world cuisine" banquet instead of a sit-down dinner. Rather than gifts, guests can donate money towards your "around the world" honeymoon.

A Wedding for the Books

If your home library revels the Library of Congress, then you'll love this idea: a wedding theme based around your favorite book! From modern magical stories like Harry Potter to Jane Austen classics, it's easy to draw inspiration from the world of literature to throw the wedding of your dreams. You can even tuck your wedding rings inside a book instead of attached to a pillow. Ask guests to write a dedication or best piece of marriage advice on the inside cover of their own favorite books as an extra special gift.

Flashback 80s Wedding

Flashback 80s Wedding

When your wedding revolves around a decade over 30 years in the rear-view mirror, the entire event technically counts as "something old." Whether you were born in the 80s or just love the style (hey, no judgement), an 80s wedding is guaranteed to be a good time for all involved. Don't worry, you don't have to walk down the aisle in a bright orange dress. Brides wore white even in the age of everything neon. Of course, you will need to break out the hairspray, as big hair was all the rage.

A Wedding Worthy of Broadway

When it comes to musicals, there are two extreme opinions. People absolutely adore or abhor them. If you're of the "belt out showtunes in the shower" variety, then a musical wedding may be just perfect. Of course, your future Mr. or Mrs. Should be equally in awe of musicals. If you're both game, start by singing your wedding vows rather than saying them. Bonus points if you can get a singing judge or minister or get all of your guest on board with singing all their thoughts, rather than speaking throughout the reception.

The Night We Met Wedding Theme

The Night We Met Wedding Theme

Head back to the location of your cute-meet for this wedding theme, you're going to recreate that magical "love at first site" moment. While this one really only works if you met in a relatively nice location (no one wants to get married while standing in line for the bathroom at a dive bar, after all), it's a sweet and nostalgic way to remember how this whole beautiful journey began. During the reception, play songs that were popular during that week and serve food from your first date.

Pumpkin Patch Wedding

If your wedding date falls smack-dab in the middle of fall, use the season's bountiful pumpkin harvest to your advantage. For this theme, invite your guests to dress casually, then take them on a rustic hayride to the site of the ceremony.  Serve fall flavors like spiced pumpkin coffee, apple tarts, hearty squash soup and other harvest recipes during your reception. Bonus: you save a fortune on décor by using what nature has to offer.

Weddingpalooza

Here's one for all the punk rock girls and indie rock guys out there! Rent a big field and throw a weekend wedding bash that's full of music, laughter and fun. After your main event on the main stage, invite local indie bands to play throughout the weekend. Set up tents for guests to sleep in (anything from simple to "glamping" tents, depending on your tastes) and dance the night away, then the next day, the next night…you get the point.
These are just a few "outside the box" wedding themes that break with tradition to get you started. Remember one thing: your wedding day is all about you! Well, you and your beloved betrothed. As long as the theme makes the both of you happy, that's really all that matters.
10 Wedding Themes That Totally Break Tradition in All The Right Ways
Awesome and Unique Wedding Ideas
Our DIY, Non-Traditional Wedding
Ideas for Planning a Small and Intimate Wedding
Non-traditional Irish Wedding – Your Day Your Way – Mount Druid Alternative Weddings
Non-traditional Wedding
10 Wedding Themes That Totally Break Tradition in All The Right Ways
creative wedding themes, list of wedding themes, wedding themes for summer, alternative wedding theme, romantic wedding theme, indian wedding themes, fun wedding themes, whimsical wedding theme,