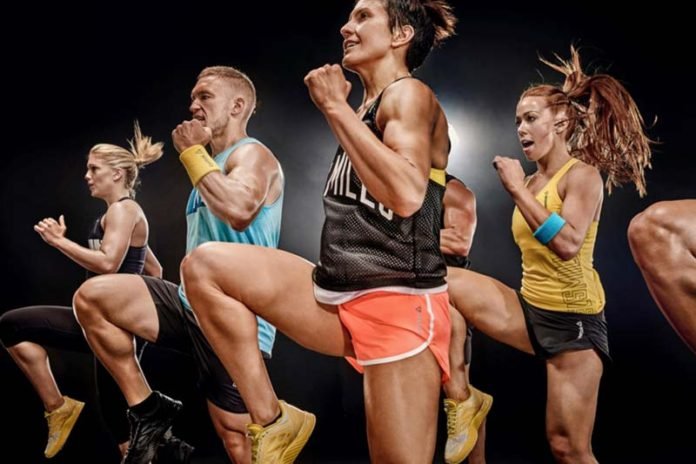 3 Fitness Trends to Watch Out For in 2018 : A new year means a "new you" for many people looking to lose weight and get fit. But what fitness trends are going to fit your schedule and interests this year? According to the World Wide Survey of Fitness Trends for 2018, gym-goers are going to start worrying less about their wearable technology and focus more on high intensity training, minimalist approaches to working out, and social aspects of getting fit.
Minimalism
If you become like a deer stuck in the headlights whenever you walk into a gym full of fancy, complicated equipment then you are in for a real treat with this next trend. Minimal equipment means lots of body weight exercises that focus on building strength, toning muscle, and burning calories with little but your body and one or two exercise tools.
Resistance bands are but simple strips of elastic material yet can provide an intense workout that hones both your strength and coordination.
Foam and massage rollers are exceedingly basic pieces of equipment but allow you to self-massage your muscles, fascia, and key trigger points to boost your own flexibility and performance.
And jump rope is back by popular demand. Commonly thought of as a childhood activity, jumping rope can play an integral role in your workout routine as it works your grip, vertical leap, coordination, and strength.
HIIT
HIIT, or high intensity interval training, has been a popular trend for years now and continues to gain a robust following as more and more research proves its efficacy at burning calories and growing strength. Studies show that this type of training where a person commits to short but explosive amounts of physical activity (think quick reps of push-ups, planks, plyometric jump squats, lunges, etc.) stimulates the aerobic and anaerobic systems in such a way as to trigger the body to more efficiently use oxygen and supply energy to muscles.
You can do HIIT workouts at home by streaming tutorial guides on Youtube or downloading apps to your mobile device. The key is to build up your intensity gradually so as to not overload your system and to avoid a week of onset muscle soreness. Most HIIT can be done from the convenience of your home with little to no equipment as well, making it accessible and affordable.
Group Classes
Looking for accountability and a more social component to your exercise routine? You're not alone. Turns out more and more gym-goers are seeking a side of 'connection' with their fitness, making group classes a rising trend for the year. Not only are gyms getting smart to this trend, but they're offering a wider array of classes that target broader groups outside the typical 25 to 35 year age range.
Senior classes that focus on fitness for older adults are becoming more popular, especially as the retirement generation grows and is looking for fun and effective ways to stay healthy. Yoga remains a top fitness trend as well, especially as more and more yogis reinvent the practice and tailor it to various needs and interests (i.e. water yoga, heat yoga, outdoor yoga, etc).
Fitness trends like these that help you save time and money, and give you a reason to get together with friends, are a godsend for busy moms and career women. In addition to those three trends, the national survey also shared that sport-specific training is on the rise (i.e. exercise routines geared towards a specific sport like boxing), as is core work that targets the abdomen, back, and thorax.
Related Videos:
Top 10 Fitness Trends of 2018 (Be the First to Know!)
2018 weird, whacky trends to look out for
5 Fitness Trends for 2018
Fitness Trends of 2018
2018 Workout Trends
3 Fitness Trends to Watch Out For in 2018
latest fitness craze, fitness industry trends 2018, new fitness trends 2018, new fitness trends 2018, fitness equipment trends 2018, fitness trends 2018 acsm, fitness industry trends 2018, fitness fads 2018,