4 Hyaluronic Acid Serum Benefits : What's your favorite skincare product, and why? Well, some consumers only consider a product either from a referral from a relative, friend, or influencers. While this could lead your quest for a useful product in the right direction, it is not necessarily the best approach. If you are a skincare savvy person, you need to consider the product's ingredients and understand how it affects its effectiveness in addressing your concerns.
From aging signs to breakouts, among other concerns that drive your search for a product, ingredients hold significant weight in determining how useful it is. For instance, among the element you may come across is hyaluronic acid, usually denoted as HA. If you have used it, you can attest to the primary benefits hyaluronic acid serum has to offer. If you are yet to use it, here is a quick look at the top benefits hyaluronic acid serum delivers that makes it a must-have in your skincare regimen.
Antioxidant properties
Dealing with aggressors that you are not in control of, such as pollution, can be quite overwhelming. This is especially if your skin's protective shield is not as effective, a concern that affects most people as they age. With its antioxidant properties, hyaluronic acid acts as a shield against such concerns, allowing you to maintain healthy and glowing skin.
Keep the skin hydrated
Hyaluronic acid is naturally produced by your body, with its primary function being to keep the tissues moist and lubricated by retaining water. With its largest amount being on your skin, however, exposure to sun's ultraviolet radiation and pollutants such as tobacco smoke, to mention a few, coupled with the natural aging process, decreases its amount. As such, among the primary benefits hyaluronic acid serum offers is replenishing its amount, ensuring that your skin remains hydrated.
Keep the glow
While taking enough water per day helps you to stay hydrated, it might not be as useful for your skin. This is mainly due to the lessened natural moisturizing factor (NMF) effectiveness as we age as, meaning that it can no longer bind moisture for long. With hyaluronic acid as an ingredient, however, you can comfortably improve skin hydration as it not only locks in moisture but also binds moisture from the surrounding as well. This allows you to maintain your skin's youthful looks for long since proper hydration slows and hides aging signs, including wrinkles and lines.
Ideal for any skin type
Among the most challenging concern while shopping for skincare products is finding a solution that works well with your skin type. The good news is hyaluronic acid works for any type, including breakout-prone, oily, and sensitive skin, meaning that you won't have to deal with unpleasant reactions once you apply the product.
While you might be scared off by the "acid" concept, the hyaluronic acid serum is safe. What's more, unlike some acids that strip your skin when applied topically, hyaluronic acid doesn't, and instead, delivers gentle hydration to your skin. As you develop a skincare regimen, professional esthetician's help could be all you need. With their insights, you get to understand different products, their ingredients, and how they affect their effectiveness in achieving your skincare goals rather than trial and error basis that could take forever to realize desirable results.
Related Videos about Hyaluronic Acid Serum Benefits :
How Does Hyaluronic Acid Work?
Hyaluronic Acid What the Beauty Industry Doesn't Want You to Know
The Truth of Hyaluronic Acid • The Ordinary HA+B5 vs NIOD MMHC
Hyaluronic Acid Your Summer Skin Saviour
HYALURONIC ACID SERUM Changed My Thoughts On Facial Acids
Related Infographics about Hyaluronic Acid Serum Benefits :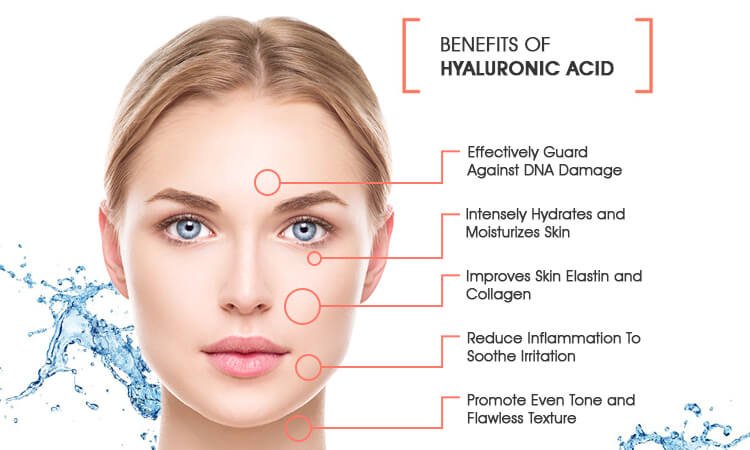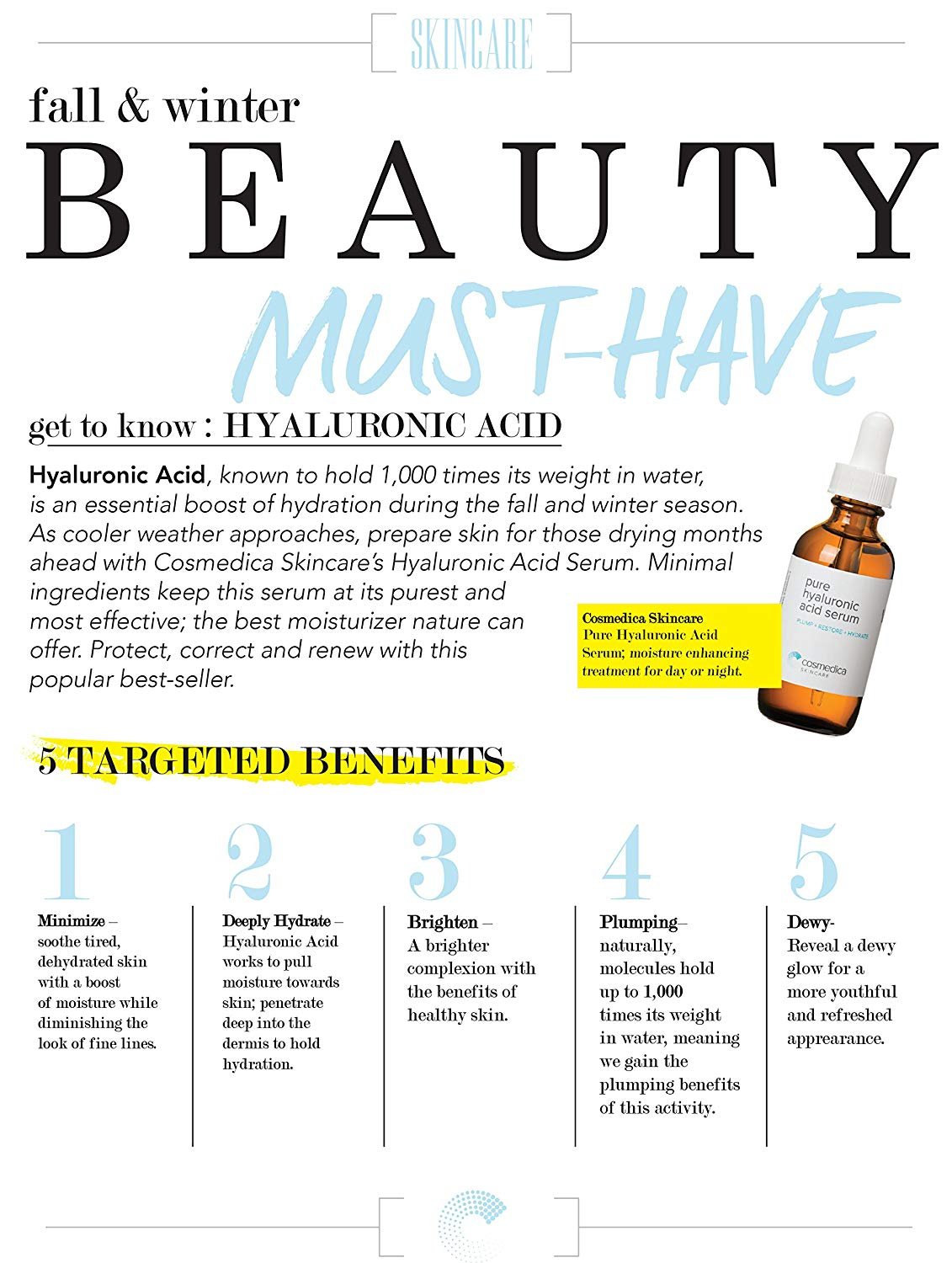 4 Hyaluronic Acid Serum Benefits
hyaluronic acid supplements, hyaluronic acid tablets, hyaluronic acid before and after, hyaluronic acid for joints, hyaluronic acid side effects, hyaluronic acid pills, vitamin c and hyaluronic acid serum benefits, best hyaluronic acid supplements,