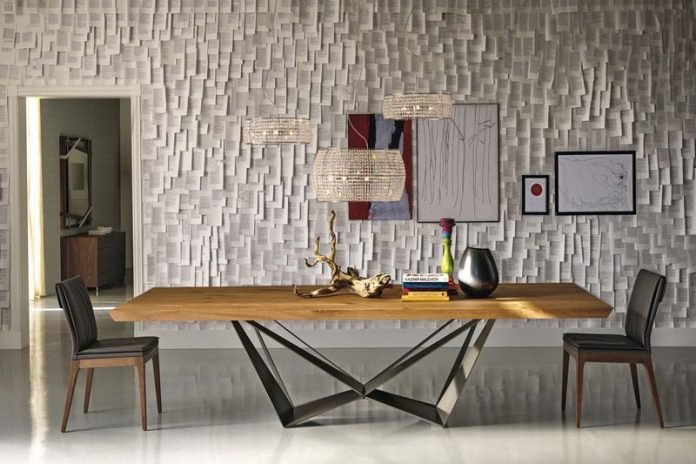 5 Tips to Decorating with a Skorpio Table : The name Skorpio provokes massive memories of many movies of the past and Zodiac signs. Its showy appearance doesn't fail to attract the attention of onlookers. It's a masterpiece that beats traditional table designs to make for itself a new place in any home's décor.
Indeed, designers know that a table should not be just another piece of furniture to place things on. It should promote beauty and creativity, among other things. Homeowners could effortlessly elevate the appearance of their houses by going the Skorpio way. Here are tips for decorating with these Italian tables.
Space Requirements

Tables that occupy too much space can be a nuisance no matter how attractive they may look. Homeowners should, therefore, be creative in their choices. Buying a table with a base design that takes up minimal space is a good choice. That's better than buying smaller tables.

Nonetheless, those who have plenty of space can choose any base design that interests them. Whether they have large or small bases, Skorpios can look beautiful in dining rooms. Also, whether the Italian tables have small or big dimensions, they can catch the attention of visitors.

Choice of Table Top

Skorpios come with different table tops. Some are made of glass and others wood. The latest models feature ceramic tops that resemble marble. All the tops are good choices depending on homeowners' preferences. Transparent tops, for instance, makes small rooms appear bigger.

Skorpio Keramic

However, the "Skorpio Keramic" (with ceramic top) has superior design. It doesn't just make work easier with spills. It features obvious stain appearances, scratches, color variations, and irregular shapes from special material processing. This adds to the beauty and creativity of any living or dining room.

Base Finishes

Skorpios also come with different base finishes. People can choose from Brushed Bronze, titanium, transparent varnished metal, black, white, or graphite. Owners can either use tables with similar or different base finishes in dining rooms. Any choice can look awesome.

Color Matching

It's great to match the color of a Skorpio table with all elements in its environment. Owners can get creative by matching the top of the table with bases of chairs around it. This creates an alternate view of a dining room. You can also match the color of the table's base with the walls of your home.

Match With Chairs

Different types of chairs match with different designs of Italian tables. For instance, most of the Isabel low-back dining chairs are perfect for Skorpios that have glass tops. Similarly, Tosca dining chairs go well with most tables that have wooden tops. However, some types of chairs are ideal for all types of tables.

Skorpio table Match with chairs
Involve Experts
It can be a difficult task for homeowners who want something extraordinary to choose the right designs of Skorpios for homes. It involves a lot of planning in terms of space requirements, types of chairs, costs, among other things. Many people may not be up to the task.
Engaging experts could make the process easier. Specialists have lots of experience in product selection, project advice, and technical specifications. Those who wish to involve professionals should look for those who are reliable, experienced, and affordable.
Related Videos to Skorpio Table:
CATTELAN: table Skorpio Keramik
Skorpio Ceramic Dining Table
Mesa comedor Skorpio de Cattelan italia
Skorpio Keramik