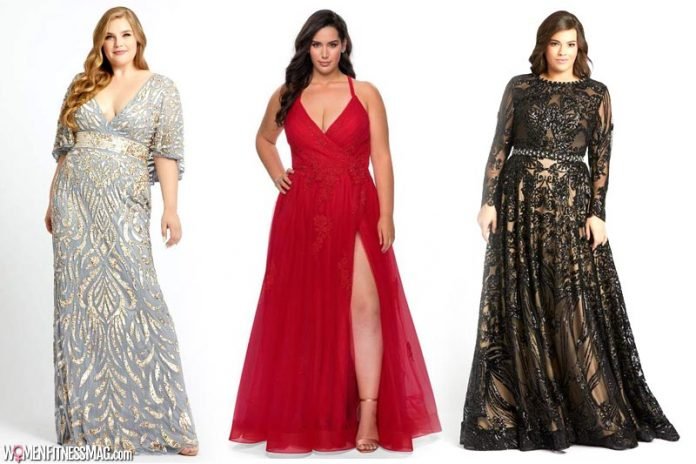 6 Silhouettes of Plus Size Dresses That Give a Flattering Look : We know that plus size fashion has come a long way. At present, there are a lot of options for plus size women to celebrate their curves in the best way. One of the most important aspects of a dress is the silhouette. It defines the outline of your figure more prominently. Whether you go for a form-fitting or a flaring style, remember that the silhouette can make or break your attire.
For plus size ladies, it is even more important to pay attention to the silhouette because the ultimate aim is to look flattering and confident. Here are the 6 most flattering silhouette styles for plus-size dresses that you can try:
Mermaid Silhouette


If you have a rectangular or banana shaped figure with less curves, the waist-cinching mermaid silhouette can be flattering. It hugs the upper portion of the body and flares elegantly from the knees to form a train. This is a form-fitting style that will make you look rather bold and sexy. Furthermore, this silhouette will create the illusion of curves and give an hourglass shape to your figure; thus, introducing a balance between the upper and lower halves.

Here are the trending mermaid plus size dresses to shop for.

Bell Silhouette


Also known as the ball gown silhouette, it is a sheer vintage style that remains fitted till the waistline and flares into a voluminous skirt with a dramatic train. This is a very popular choice among curvy women because it lets them conceal the downsides of the figure while highlighting the best features in the top half.

Sheath Silhouette


It is form-fitting from top to bottom with no flare. Apart from being flattering, this is also quite a sophisticated option and perfect for formal office events or fancy parties where you have to unleash your A-game without being over the top. It is a waist and waist and bust defining style that will hug your body throughout.

Straight Column Silhouette


Better known as the tubular or rectangular silhouette, column dresses are perfect for curvy women with a thick waist and heavy hips. This style conceals the flaws effortlessly and strives to maintain a healthy balance. Mention may be made of shift dresses in this case which are considered to be ideal for plus size ladies. Remember that column silhouette also doesn't flare; it extends along your figure in a straight line which, no doubt, gives you a chic edge. Dresses with this silhouette are usually made from lightweight fabrics that can drape well and cover a wide circumference without creating any discomfort.

Trumpet Silhouette


Almost similar to the mermaid style, trumpet silhouettes have less of a flare. Also, unlike mermaid gowns, the flare of trumpet begins from the mid-thigh which makes it a little more comfortable to move freely. The silhouette is shaped like the bell of a trumpet and hence the name. It defines your curves more prominently, accentuating the waist and gives you a flattering appeal.

Peplum Silhouette


For plus size women, the peplum style is ultimate. It is particularly recommended for ladies who have a heavier bottom because the peplum will minimize the heavy waist and belly to create an hourglass shape. If you go with pleated peplum, it looks even more flattering and chic.
Feeling confident enough to flaunt the curves in a unique way? You are free to mix and match the styles and improvise on your own. We hope that this plus size style guide will help you come across the right dress that compliments your figure.
Happy shopping!
Related Videos about Silhouettes of Plus Size Dresses That Give a Flattering Look :
THE EFFECTS OF CLOTHES ON YOUR PLUS SIZE SILHOUETTE
6 gorgeous plus-size looks for any formal occasion
New Very Elegant Plus Size Dresses For Evening Parties
PLUS SIZE | A DRESS FOR EVERY CURVE
6 Silhouettes of Plus Size Dresses That Give a Flattering Look
plus size 32 dresses, plus size pretty dresses, plus size dresses with sleeves, size 30 plus size dresses, plus size dresses 4xl, plus size a line dresses, plus size dresses online, colorful plus size dresses,