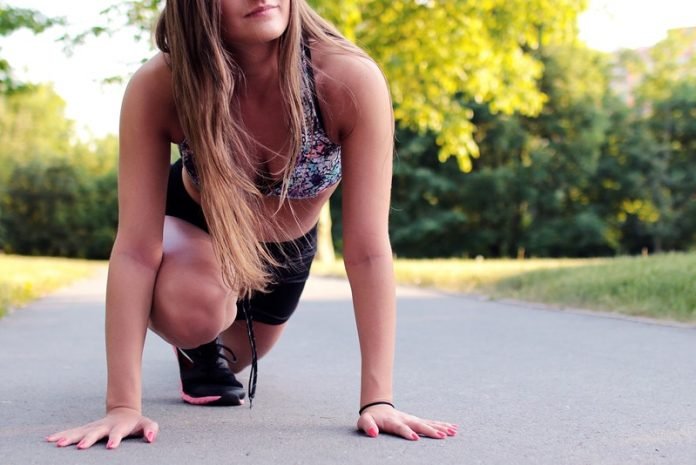 9 Spring Fitness Ideas To Get You Moving :With longer days and warmer temperatures on the horizon, it's hard not to let your mind drift to thoughts of basking under the sun enjoying the outdoors. If you're looking for smart ways to combine much-needed physical fitness with outdoor adventures, don't miss these 9 spring fitness ideas to get you moving:
Try Something New

Embrace that sense of rejuvenation that spring brings and get inspired to try something new! It's up to you what you do – just remember to keep it active and involve others. Perhaps you and a friend try out a new outdoor yoga class, or you and your husband try backpacking one weekend. You may also consider joining a local pick-up league or using sites like Meetup.com to find groups that get together for fun outings like rock climbing or trail running.

Clean Eating

No fitness regimen is complete without a strong, clean and balanced diet to complement it. Clean eating becomes much easier in the spring when more local farms enter a growing season and fresh, local, organic produce starts showing up again at the farmers' markets and grocery stores.

Don't forget! In the spring, fruits and vegetables including lettuce, spinach, strawberries, bell peppers, celery, apples, and peaches are all placed on the "dirty dozen" list meaning they are most likely to retain toxic pesticides. Make sure what you eat is certified organic and thoroughly washed prior to consuming.

Water Sports

More and more water sports are making their way into recreational spaces including stand-up paddle boarding, kayaking, and canoeing. Check at the waterway nearest to you, whether it's the beach, a river, or a lake, and find out if companies there rent water sports equipment for recreational use. You will typically need to pay a fee by the hour or day, however, it can be a fun and healthy use of your money.

Nordic Pole Walking

Is your go-to cardio exercise a daily brisk walk? You could be burning many more calories and engaging many more muscles with one simple change – using walking poles. Nordic pole walking is especially popular with older adults who are looking to reverse muscle loss and maintain their strength and agility. In addition to being accessible and not requiring a lot of equipment, research has also shown that Nordic pole walking is so enjoyable, it can reduce a person's perception of how much energy they are using and actually get them to exercise harder and longer.

Zip Lining

Want to feel like you're flying through a tree canopy? Take a ride on a zip line. Zip line adventures often involve some amount of hiking steep inclines – you have to get to the highest peaks to be able to safely zip line across a gorge or waterway after all. Check with a local outdoors organization to see what zip line adventures are available near you and make a day of it with family or friends.

Gardening

Digging, lifting, moving dirt, raking, weeding, planting, watering . . . simply thinking about gardening can make you break a sweat. Get a headstart on your seasonal garden by planting cold-hardy plants that like sunshine but can also handle a touch or two of frost that tends to linger through early spring. These plants include arugula, broccoli, eggplant, beets, tomatoes, carrots, kale, radishes, spinach, and peas.

Cycling

Few exercise activities are as great about getting you outside enjoying the beautiful sights and fresh air as cycling. In fact, research has shown that regular cycling can boost your immune system and slow down aging. If you don't own a bike, don't let cost keep you from giving cycling a try this spring. Find out if the city in which you live offers a free bike sharing program or look at local re-stores and used sports equipment stores for quality bikes at majorly discounted prices.

Pitching In For a Good Cause

Really want to put a spring in your fitness step? Find an active way to pitch in in your community. Perhaps you can join a recreational softball league that raises money for a local nonprofit, or train and run a half-marathon the benefits a cause you care about. Everything from trail maintenance to running shelter dogs to building houses can give you a solid workout while also helping you do good!

Take Advantage of Company Perks

Wanna make your tax refund go even further this spring? Look for other ways that you can leverage your job status to stay fit. Does your company offer health and wellness-based incentives like reimbursing gym memberships? Is there an annual employee health competition or corporate volunteer opportunity you can get them to sponsor? It doesn't hurt to ask!
Related Videos about Spring Fitness Ideas To Get You Moving :
Get in Shape for Spring Break! Healthy Food & Fitness Ideas!
Get A Spring Break Bikini Body! My Workout Routine
Fitness Ideas For Spring
Get in Shape for Spring Break! Healthy Food & Fitness Ideas!
Get Bikini Body Ready for Summer! | 6 Workout Ideas
Stay Fit for Spring! Fitness Routine, DIY Motivation, & Essentials!
Related Infographics about Spring Fitness Ideas To Get You Moving :

9 Spring Fitness Ideas To Get You Moving
fun weight loss exercises, fun exercises to do at home, fun workouts at the gym, fun workout routines, fun workout ideas for groups, list of exercise activities, fun exercises to lose belly fat, activities to lose weight fast, outside gym ideas, fitness session ideas, fitness plans ideas, health fitness ideas, healthy fitness ideas, ideas for gym workouts, workout schedule ideas, new workout ideas,