Best Plus Size Dresses for To-Be Bridesmaids : It's not easy to choose a bridesmaid dress because every woman's shape and size is different. A plus size midi dress is common, however, a dress that may look great on your friend may not look great on another friend. Take note that it's worse than asking your bridesmaids to spend cash on dresses that they're not comfortable in or maybe a dress that certainly does not fit them at all.
Luckily, there are a few solutions to making sure that every single one of your bridesmaid looks best on your wedding day. Here are some of our tips:
Choosing the right color
Since it's your wedding, you need to choose color. Pick a color and let everyone find a dress they like in that same color. You may give them the length you prefer, any designs you want to be in the dress like embellishments or fabrics and could even give an example of a dress you prefer. This way, you'll be able to maintain a uniform look for your bridesmaids. Best of all, they can find a dress that's suitable for their body type.
Choosing a gown that comes in standard and plus size.
Shopping is now made easier for full-figured women as a lot of designers are expanding their lines to include sizes for them.
If you choose number two, here are some plus size bridesmaid dresses styles you could check out. These dresses can also be used in formal or semi-formal events.
Plus Size Lace Dress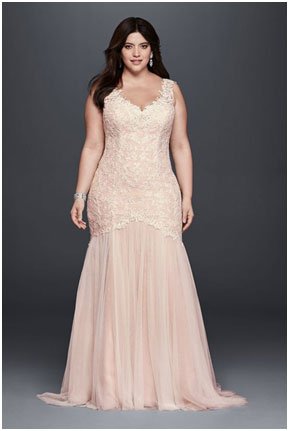 A stretchy fabric such as floral lace will help with the overall fit, making you skip any type of last-minute alterations. Make sure to choose a dress shape that's empire, with a hem that falls just below the knees, will lengthen the body's appearance. Choose a dress that also has a V-neck and banded high waist which will give an illusion of slimming effect.
Full Lace ¾-Sleeved Dress
A favorite by many women thanks to its comfortable fit and flattering silhouette, an elegant ¾-sleeved lace dress will keep the look formal, as well as wedding-appropriate. Longer sleeves are also considered a great choice if your bridesmaid would like something that will give them coverage.
Plus Size Strapless Dress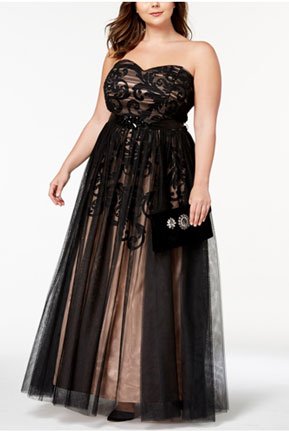 They said that plus size women should steer clear from strapless dresses. However, if you choose this style of gown that's simply beautiful, elegant and comes in nice colors such as navy or blush, your bridesmaids will definitely love you. However, if you allow the girls to choose their own dress while sticking to your motif, a strapless dress for plus size women is a great choice. Choose one that comes in an interwoven fabric along the high waist and bust and a flowing skirt that's simply flattering and flowy in detail. Not only will they like the dress, but would also be comfortable in the design you have chosen.
V-Neck Embroidered Lace Dress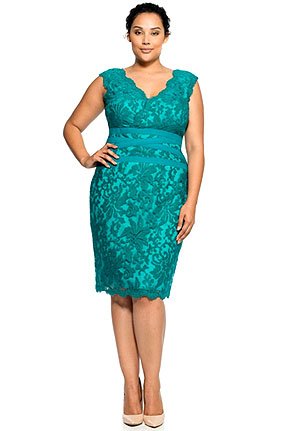 A v-neck embroidered lace dress in black is not only appropriate for wedding, but will look great on other formal events. You need to look for a dress that will accentuate the waist of a full-figured woman, and the v-neck section features a delicate scalloped lace detail.
Plus Size Chiffon Gown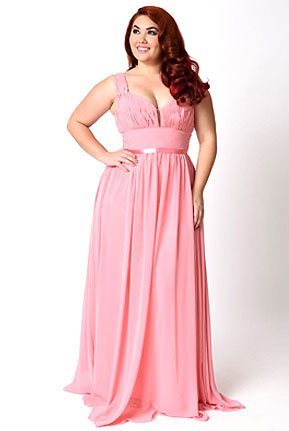 Be sure to find a dress that will work for your bridesmaids. A chiffon gown is a very classic bridal party dress. Choose a style that has thin, delicate straps and a lovely long chiffon skirt. The silhouette that is simple and high waist will look gorgeous and are the perfect elements for every shape, including plus size women.
Sleeveless V-Neck Gown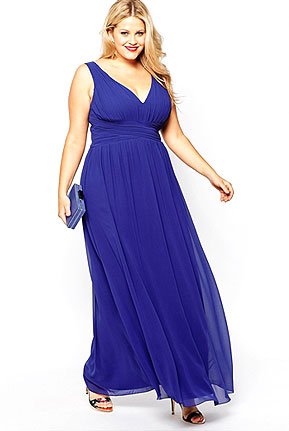 Choose a sleeveless V-neck gown that is in a subtle, neutral color. These are considered great not just for the wedding, but for any season and occasion. The banding around the waist and the thick straps of this type of gown will offer coverage and support, while the shorter skirt will make the dress look flirty and fun.
Beaded Illusion Gowns
Want a bit of sparkle and shimmer to dress? These are some of the most common beaded plus size dresses that are embellished in beads. If you're lucky, the gown will look pretty in champagne, navy and black.
Make sure you can choose a dress that already has a built-in bra so the bridesmaids will never have to worry about buying undergarments that would be invisible with the neckline of the gown.
Embellished Waist Gown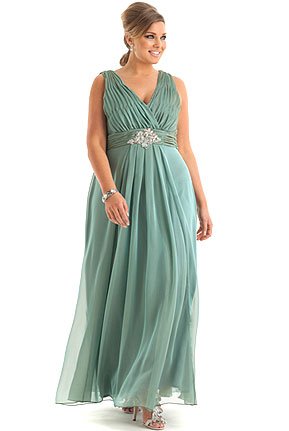 Add bold and striking colors to your bridesmaids' dress selections. They would also like to stand out in photos, giving a beautiful contrast to deeper colors of the man's suits and the bride's white or ivory dress. A bold plum color surpasses all season that is styled with a delicate lace fabric, and a flattering embellished belt. Choose one with thick straps and a high v-neck because this is considered the best choice for plus size women where it will offer support and coverage during the entire event.
Full Lace Maxi Dress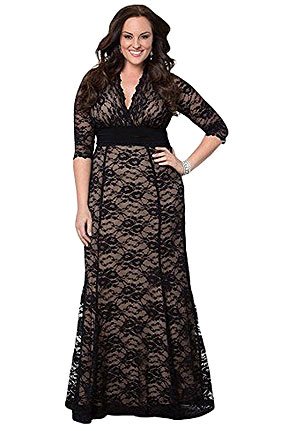 There's no denying that a full lace maxi dress is loved by, not only bridesmaids, but also by brides. These are considered inexpensive, comfortable and elegant. This dress can be worn in other formal events. Make sure you choose a dress that is made of high-quality lace from head to toe, with a floor-length design. Pair this with a gold or silver clutch and a dainty bracelet and earrings.
Halter Neck Tier Dress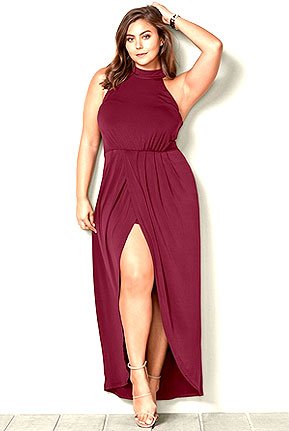 The cut and look of this specific dress is not very common. The designer who created this style didn't really think about the woman's shape at all. But if your bridal party wishes to wear a comfortable dress, this specific gown is the best choice. It's not too tight and does not hug the body, which we know a lot of plus size women prefer. Not only that, but the style, somehow, can be extremely flattering because it will hide the problem areas created by the two-tier ruffled bodice. Choose this type of dress that has a little sparkle around the neckline and one with a sexy keyhole at the back.
Now, you found the perfect dress for your bridesmaids of all shapes and sizes. Congratulations! You won't have to have them wear simple plus size midi dress then. It's time for you to take the final step and that is to find the right shapewear for them. A nice-fitting dress worn over a shapewear will hide a couple of bulge here and if your women prefer an instant painless nip and tuck, this is the one they need.
Related Videos for Plus Size Dresses for To-Be Bridesmaids :
Top Plus size bridesmaid dresses, elegant plus size dresses
Women Sizes 0 Through 28 Try on the Same Bridesmaid Dress
The Plus Size Bridesmaid Dresses for Your Elegant Appearance
PLUS SIZE FASHION TRY ON HAUL
How to Choose a Bridesmaid Dress for a Plus-Sized Woman
Long party dresses, graduation, bridesmaids – Plus Size
Best Plus Size Dresses for To-Be Bridesmaids
bridesmaid dresses plus size with sleeves, plus size bridesmaid dresses cheap, long plus size bridesmaid dresses, flattering bridesmaid dresses for fuller figures, cheap plus size bridesmaid dresses with sleeves, plus size modest bridesmaid dresses, plus size bridesmaid dresses david's bridal, plus size bridesmaid dresses under 50,