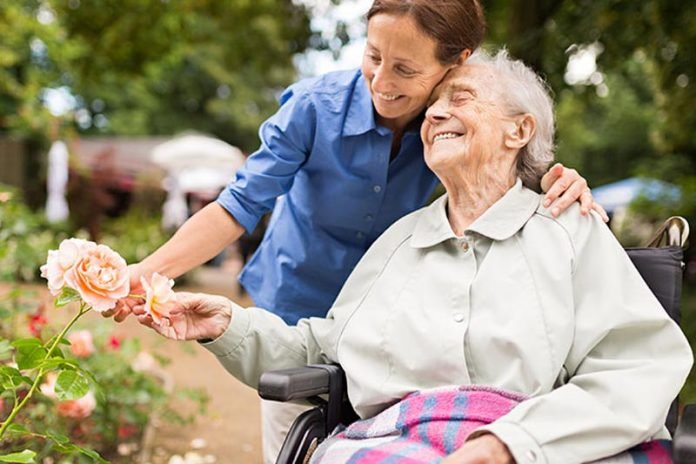 Choosing Between Nursing Homes and Assisted Living : If you have a loved one that's going on with their years, you might be considering getting them external help with their everyday lives to make it as comfortable and convenient as possible. There are two options that you can choose from: putting them into a nursing home or getting them assisted living.
Most people tend to think that assisted living facilities and nursing homes are the same thing but in reality, they are actually quite different. While they do have similar goals in providing care and help for elderly and infirm, as well as often times having the same services, the main idea behind these two types of care is different.
In this assisted living vs nursing home facilities comparison post let's take a look at how they are different, and which type of supplemental living care would be best for you.
Assisted Living vs. Nursing Homes
Assisted living facilities are for those who are still able to manage their daily lives for the most part. They only require minimal assistance when it comes to tasks or chores, such as cooking, cleaning, doing the laundry, or taking out the trash. Most assisted living facilities offer a customized program where you can choose which services you need.
Nursing homes offer a more intensive and attentive level of care and are suited for people who need frequent medical or daily assistance. Nursing homes offer assistance for all aspects of daily life, as well as specialized medical or hygienic care.
Choosing between assisted living or nursing home facilities will depend on the level of attention and assistance that is required. A caregiver will assess this by getting your regular schedule of Activities of Daily Living (ADLs). This schedule will include the activities that you include in your daily routine, such as eating, going to the bathroom, and physical exercise. Both assisted living facilities and nursing homes generally offer a small number of ADLs in their services; if you need any specialized or particular activity included in their service, you might need to pay an extra fee.
Common ADL-Included Services
Here are some of the frequent activities that both assisted living and nursing homes will include in their basic services:
Eating

While both nursing homes and assisted living facilities offer three daily meals, residents in living assistance facilities can opt for a private kitchen where they can cook their own meals. In nursing homes, the staff will also offer to feed residents who are unable to feed themselves.

Personal Hygiene

Personal hygiene includes bathing, oral care, grooming, and changing clothes. In nursing homes, this is already part of their basic services, but in assisted living facilities, residents are generally assumed to be able to take care of their personal hygiene needs. If they need assistance from the staff, it could cost a small extra fee.

Mobility

Mobility includes sitting, standing, and moving around. As with eating, those who live in assisted living facilities are assumed to be capable of being able to get around on their own, or at least with the aid of a cane or a walker. In nursing homes, there is more attention and assistance from the staff for residents when it comes to mobility issues. If you are using a wheelchair, nursing homes are generally a better choice.

Continence Assistance

This includes using the restroom, as well as using incontinence products such as adult diapers. Assisted living facilities will charge a fee for residents who want to receive continence assistance, as well as for changing sheets and bedding outside of the regular schedule. In nursing homes, this is also included in their services.

Medication Management

Medication management refers to what type of medicine you need to take, as well as the schedule you need to take them. Assisted living homes typically will not offer medication management as part of their services unless requested and paid for, but nursing homes will manage all medication management needs for their residents.
Socialization and Community
In general, assisted living facilities offer more freedom and independence for their residents. While they do live on-site in private rooms or condos, they are free to come and go as they please. Larger assisted living facilities might even offer to arrange outings for their residents, as well as provide transportation if needed.
Nursing home residents will mostly stay on the property, and most of their socialization will come from either family visiting or interacting with other residents. The staff normally arranges for a wide range of activities to help with physical, mental, and emotional stimulation. They can provide low-impact exercise classes such as yoga or tai chi, bingo or movie nights to promote socialization between residents, or even have musicians or performers visit for some entertainment.
Cost of Care
Many governments consider assisted living facilities as "custodial care", and these are not covered by the national health service. However, this can change depending on the country; check your local laws to see if assisted living facilities are covered by your government's national health plan. If they are not covered, it will be an out-of-pocket cost. In the United States, for example, choosing to reside in assisted living facilities is not covered by Medicare or Medicaid.
Nursing homes are considered to be part of the government's health care plan if the nursing home facility follows state and federal requirements. In the United States, the first 100 days of living in a licensed nursing home is covered by Medicare, and Medicare Advantage will cover the cost of supplementary care.
Related Videos about Choosing Between Nursing Homes and Assisted Living :
Nursing Home or Assisted Living HOW TO Decide When It's Time , How to Choose
Senior Care: Assisted Living or Nursing Home?
Nursing Homes & Assisted Living: Compare Because You Care, with Linda Jennings
Choosing Between Assisted Living and Long-Term Care
How do I choose the right assisted living facility or nursing home for my loved one?
How to choose an assisted living or nursing home
What's the difference between assisted living and nursing homes?
Nursing Home versus Assisted Living
Choosing Between Nursing Homes and Assisted Living
assisted living vs long term care, working in assisted living vs nursing home, what is assisted living, difference of assisted living and nursing homes, nursing home near me, how to know when it's time for a nursing home, nursing homes near me, difference between assisted living and retirement community,