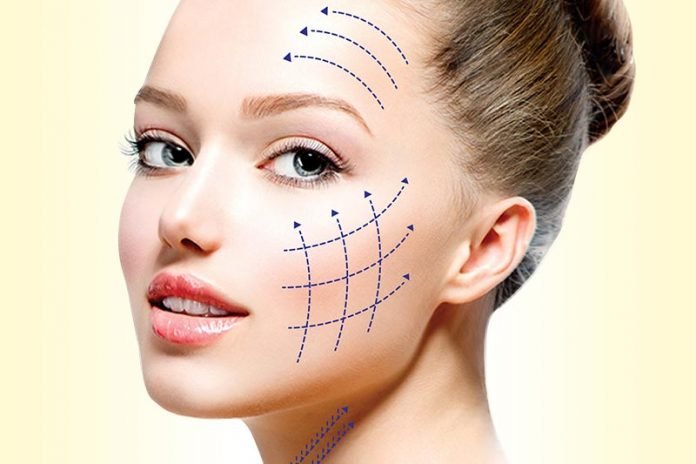 Everything You Need to Know About PDO Thread Lift : In the past, thread lifts involved surgery and became linked to unpleasant side effects like infections and thread breakage. Over time, the technique has changed. Today, most thread lifting treatments are non-invasive. Thread lifts are available in many different types, and the PDO thread lift is among the most popular. Check out PDO thread lifts near me.
What is a PDO Thread Lift?
It is a procedure that lifts and tightens sagging skin. The threads, which originate from South Korea, comprise of Polydioxanone (PDO). They are inserted into the deeper skin layers and they produce three effects:
Instant skin lifting via mechanical effects.
Skin tightening by shrinking fat tissue.
Cellular renewal via collagen stimulation and neovascularization to enhance skin elasticity, texture and fine lines.
About six months after the treatment, the PDO threads will vanish through hydrolysis. The lifted facial contours will stay for around three to six months more, because of the cellular rejuvenation effects. The skin cells are stimulated to make new collagen and blood vessels to enhance skin microcirculation.
Moreover, the threads stimulate the contraction of the fat tissue. That will produce skin tightening and face slimming effects.
How is the Procedure Done?
A PDO Thread Lift is minimally invasive. After numbing and application of local anesthesia, the threads are put in using sharp or blunt tip needles (known as cannulas) into several skin layers. Once inserted, the PDO threads attach to the skin and lift it up. Any excess threads are cut off.
The process takes about 15 to 30 minutes depending on the treatment areas. There's some discomfort during the thread lift, but due to advancement in technologies, the pain is minimal.
What Are the Possible of Side Effects of PDO Thread Lifts?
The procedure is surprisingly safe. In comparison to fillers, the side effects of PDO thread lifts are milder. Since PDO threads are inserted using needles and not surgery, and get absorbed in six to eight months, the side-effects are minimal.
Depending on the kinds of PDO threads used and treatment areas, bruising might or might not occur. However, expect some minimal swelling and soreness for three to five days after the treatment, a sensation of mild tightness of up to two weeks.
More severe side effects, although rare, can happen. They include: development of nodules, infection, damage to salivary ducts and nerve damage. The human face is a complex structure. Hence, intimate anatomical knowledge is necessary to conduct a PDO thread lift successfully and to avoid serious side effects.
What You Should Take Note of Before and After a PDO Thread Lift
Like other procedures involving injections, you should avoid alcohol and some supplements like Vitamin E before and after the treatment. Furthermore, avoid going to the sauna or engaging in heavy exercise.
Following two weeks after a PDO thread lift, it is probably best that you avoid dental treatments. Your doctor will also advise you to sleep on your back to let the swelling subside, and avoid exerting pressure on the face.
Which Areas Does a PDO Thread Lift Treat?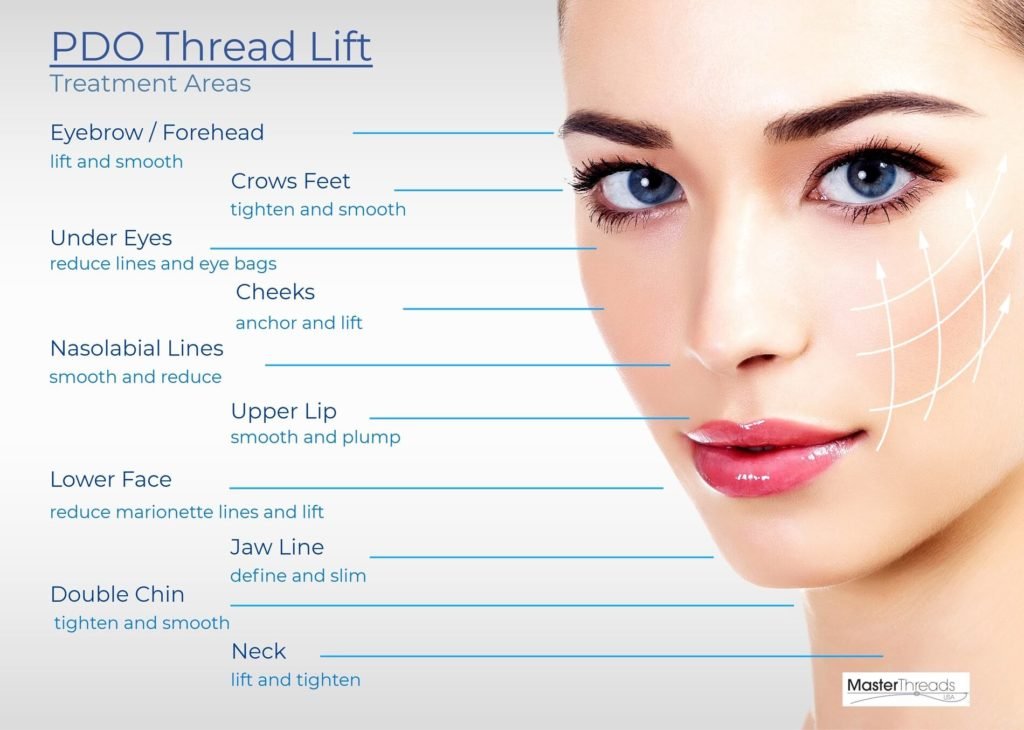 PDO thread lifts are very versatile, which allows for practically every area of the face to be treated. The procedure can be used to treat the area under the eyes, crow's feet, eyebrows, nasolabial folds, cheeks, naso jugal folds, the wrinkles around the mouth, jaw line, jowls and neck. The treatment is especially beneficial for the cheeks and the lower face.
Who is Suitable for the Procedure?
The PDO thread lift is an efficient, non-surgical cosmetic treatment that is suitable for anybody seeking to enhance the look of sagging skin. The treatment is suitable for somebody who is willing to incur several injections, and wishes to achieve an instant lift without going through a facelift surgery.
Related Videos about Everything You Need to Know About PDO Thread Lift :
Polydioxanone Thread Lifting Technique
PDO Thread Lift to Tighten Face and Neck
PDO Thread Lift: Cheeks & Nose
PDO Threads to Marionette/Jowl Area – New Barb 3 Thread Lift
PDO Thread Lift Treatment
Related Infographics about Everything You Need to Know About PDO Thread Lift :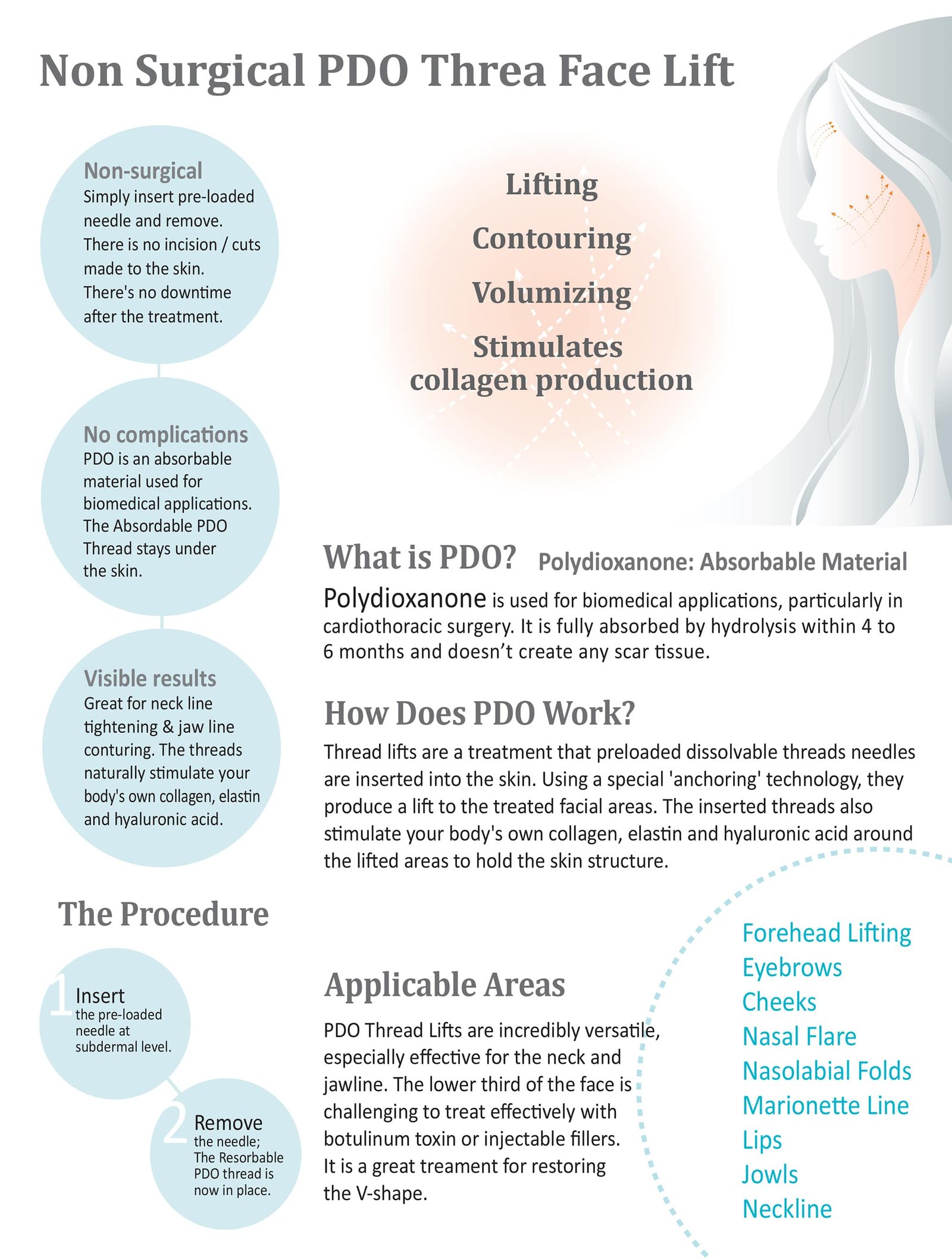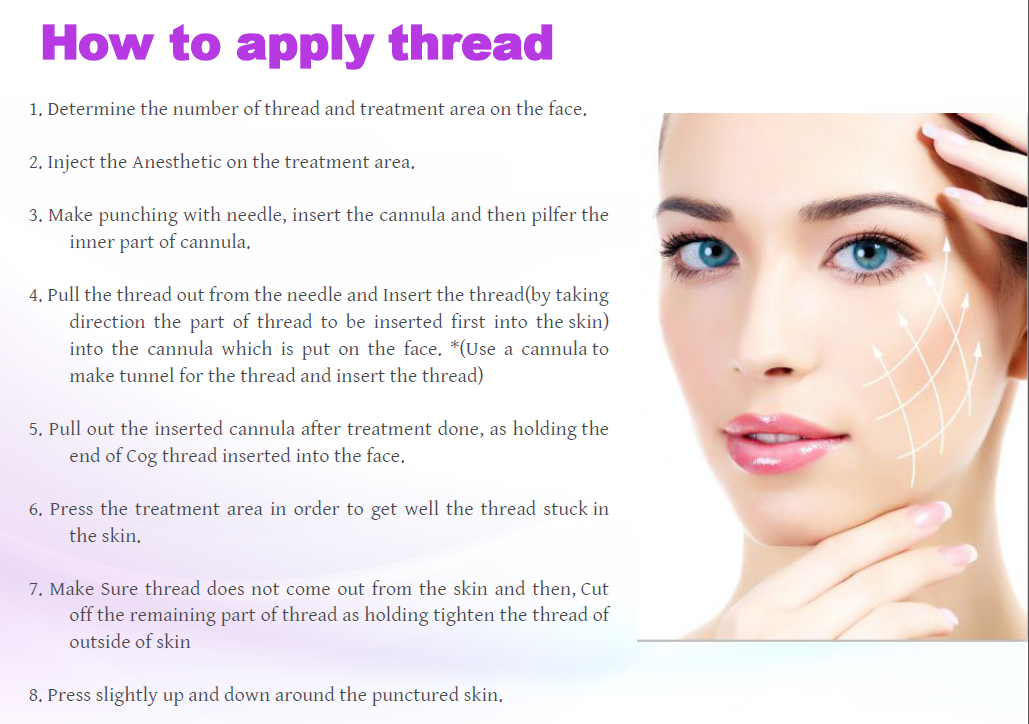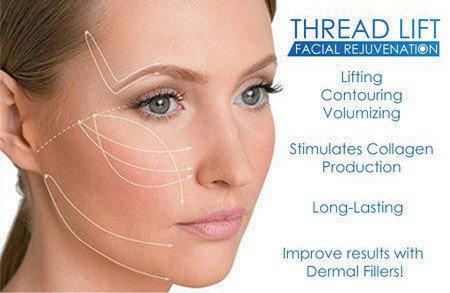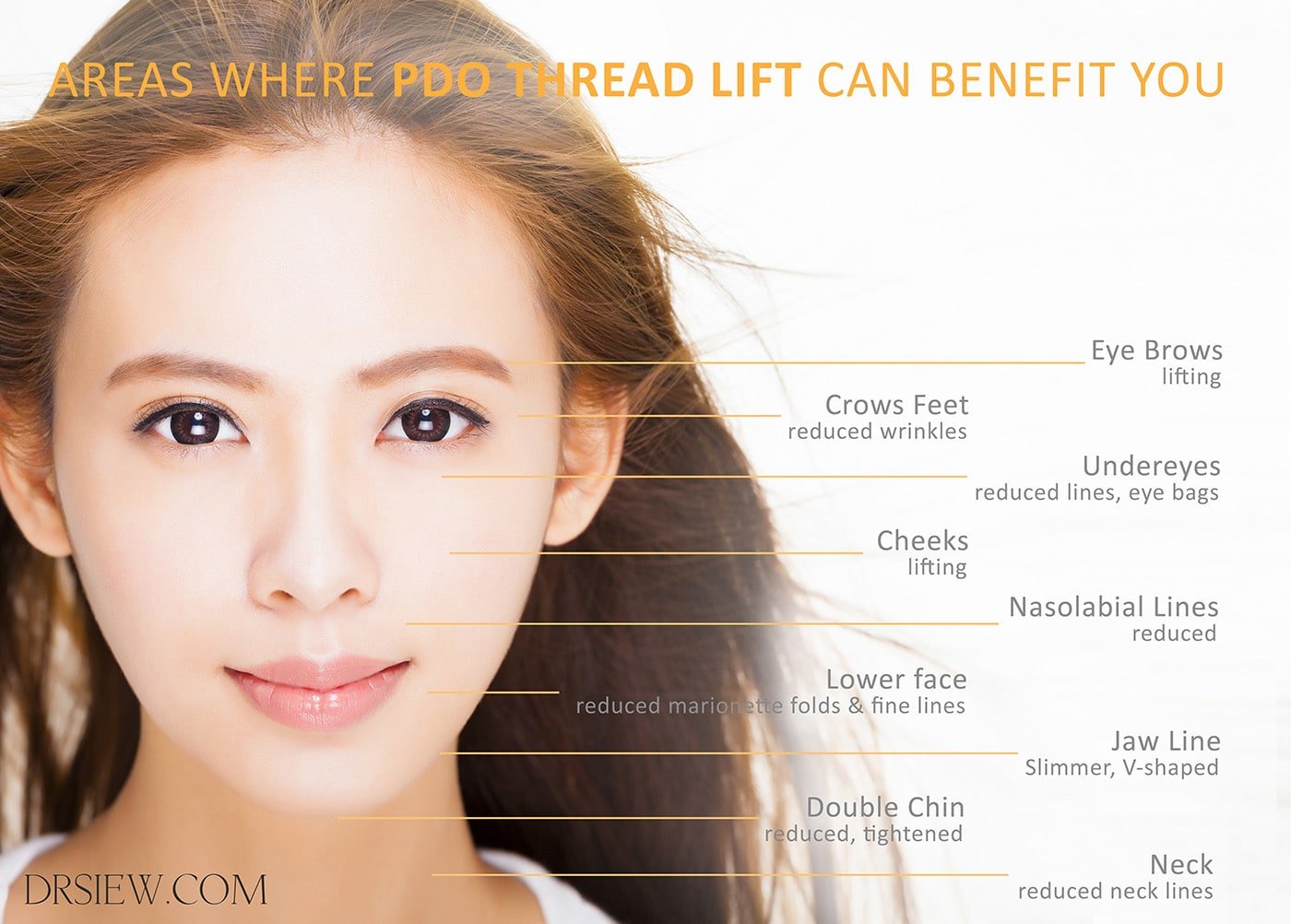 Everything You Need to Know About PDO Thread Lift
pdo thread lift recovery, pdo thread lift complications, pdo thread lift cost, pdo thread lift near me, pdo thread lift aftercare, lumps after thread lift, pdo thread lift training, thread lift before and after pictures,