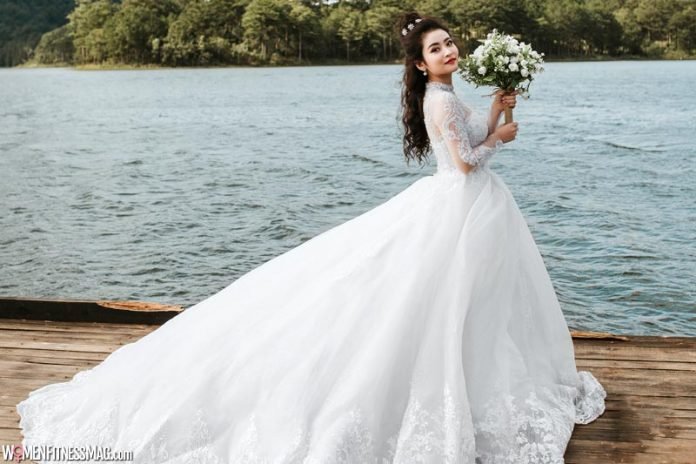 How to Find the Wedding Dress of Your Dreams : The wedding dress is like a centerpiece of all daydreams for a bride to be. On the wedding day, everyone wants to feel and look their most beautiful, so for that, a perfect wedding dress is the first priority of a bride.
Although shopping for buying a bridal dress is a fun activity but alongside a bit stressful as well. Thankfully, there are plenty of ways and places to find the perfect dress, and we're here to help you know where to look!
Bridal Salons
Try not to get thrown off by the term salon. A bridal salon is not a hair salon-bridal shop combo—although that does exist! This is just your typical wedding dress store, but it is referred to as a salon because of the personal service brides receive. There are four different types:
Couture — Designer have their own showrooms or shops like Kleinfeld's fall under couture. These are high-end boutiques that often come with heftier price tags. The designers work closely with these shops.
Big Box — Think David's Bridal or any large department or franchise store that sells wedding gowns at a fairly low price.
Popular Price Point – These features dresses from some of the industry's best designers but at a much more affordable price. They often hold several hundred dresses in house and do not require appointments. This isn't necessarily a franchise but might have a few locations.
Bridal Boutique — These are similar to the Popular Price Point type but are usually owned by one person and typically have around 100 dresses or less in house. They might have some couture designers in stock, too.
Most brides go to a bridal salon to find their wedding dress. While a Big Box shop and some Popular Price Point shops won't, many bridal salons require appointments and limit how many guests can be there. These boutiques are often located within upscale urban shopping districts, suburban downtown areas, strip malls, full-scale malls, and even inside some of the larger department stores.
Trunk Shows
A trunk show is an auspicious occasion in which a bridal salon will introduce the latest designer's collection. To avoid a great effort and huge stress, many brides may seek such trunk shows for bridal gowns. This event reveals a lot of the latest designs for its customers. The bride has a unique opportunity to choose and try the wedding dresses before they are launched in the market. A trunk show is a wonderful occasion that should not be missed in any way. It presents a complete package of fun and amenities to the brides.
A bride is interested in more than one bridal dresses of the same designer, she can find them in a trunk show. A trunk show is an excellent option to bring down the number of searches along with many advantages. Dresses which the bride has noticed in magazine and internet will be from the designer's new collection, and the trunk is giving an opportunity to the bride to select the dresses which is an exclusive collection for her.
Often trunk shows offer sales on the showcased dresses.
Consignment Stores
For brides looking to save some money, buying a preloved dress might be the best idea. Many brides sell their dresses after they've worn them on their day either to make some money back or to give the gift of a dress to a less fortunate bride.
Most cities have consignment stores that could have a wedding dress or two, but there consignment bridal salons all over the country that are full of secondhand dresses. The prices of these dresses are significantly reduced—often to only a few hundred dollars.
Online
Buying wedding dresses online is becoming a big trend. There are several custom-made designers available online that will work with brides to create their perfect dress from scratch. They meet via phone call, and the designer will send fabric samples so the bride can pick every detail about her dress.
Sometimes custom isn't the way to go, but a bride might still want to order her dress online to lessen the hassle of dress shopping. A bride might find her dress from an online-only retailer or maybe order a handmade dress on Etsy. Ordering handmade isn't necessarily the same as custom-made as the design is already pre-determined.
Family
While the idea of wearing grandmother's wedding dress might be concerning, this is actually a great way to save money on a dress. If grandma or mom wants to pass down her dress, but it's a little outdated, no problem! A tailor could easily make changes or even design a new dress out of the hand-me-down. This is a great way to check off something old or something borrowed.
Plus, hey, who knows—fashion repeats itself, so maybe grandma's dress is back in style!
Just a few Tips
Have an idea of what you're looking for.
Set a budget.
Be smart about who you bring. You want honest people but also not too many people.
Once you found the dress, stop looking and don't try more on. It will confuse you!
Happy Shopping!
Related Videos about How to Find the Wedding Dress of Your Dreams :
How To Find Your Dream WEDDING DRESS!
4 stylist fit tips to find the wedding dress of your dreams
Wedding Dresses : How to Find Your Dream Wedding Dress for Under $200.00
10 Tips to Help You Find Your Dream Wedding Dress
Trying on wedding dresses + tips to find THE ONE!
How to Find the Wedding Dress of Your Dreams
how to choose a wedding dress for your body type, my dream wedding dress quiz, perfect wedding dress quiz, wedding dresses, can't decide on wedding dress, how to know your wedding dress is the one, wedding dress shopping etiquette, did i pick the right wedding dress,