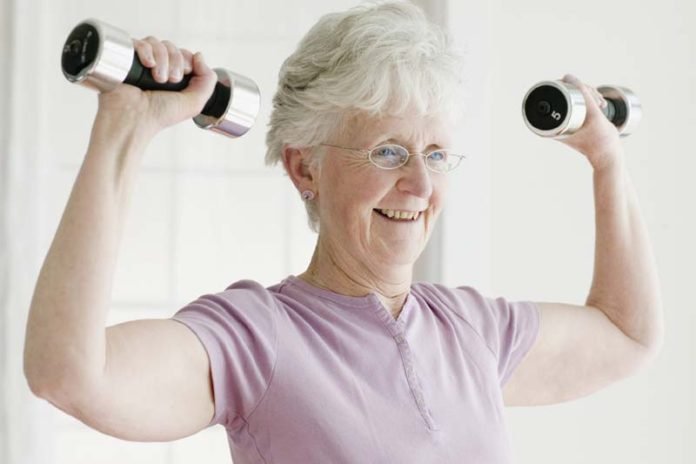 How To Stay In Shape in the Later Years of Life : The Centers for Disease Control and Prevention recommends that older adults engage in approximately 2½ hours of moderate aerobic activity a week as well as strength exercises twice weekly. There are numerous reasons why we tend to become more sedentary as we grow older: health problems, weight issues or out of concern that we might fall and injure ourselves.
Many older women feel that exercise just isn't for them, not realizing that an active lifestyle becomes more important than ever to your health as you grow older.
According to the American College of Sports Medicine, a 60-year old physically active woman is capable of achieving the same fitness levels as an inactive 40-year old. The statement 'use it or lose it' is spot-on when referring to the aging process. Senior women can look and feel years younger by remaining active and engaging in exercise that will burn fat, boost flexibility and stamina, maintain muscle and bone strength and minimize coronary risk factors.
Exercises for the older woman
Aerobic exercises
Walking, jogging, dancing and swimming are all excellent examples of aerobic exercises suitable to aging women. Aerobic activity targets the large muscles in your body, burns fat and improves your cardiovascular health. It is important to not overexert yourself as this could lead to injury. Make sure you are able to pass the 'talk test' at all times while exercising which means that you are moving at a pace that still allows you to have a conversation.
Strength & resistance training
As we age our muscles tend to shrink and lose mass. They also tend to lose flexibility and strength and need more time to respond. Strength training can assist in retaining lost muscle as well as decrease the risk of obesity and diabetes, both of which are substantial health issues in senior women. Low-impact exercises using light dumbbells and ankle weights are ideal for muscle strengthening and maintenance. Build a routine around biceps curls, lunges and leg raises and aim to start with 8 repetitions of each, gradually increasing the reps until you can comfortably manage between 1 and 15.
Stretching
Stretching forms an integral part of any exercise program as it aids significantly in maintaining a good range of motion as well as decreasing the risk of injury and improving balance. Yoga and Pilates are both outstanding forms of stretching exercise and are unmatched in their ability to build core strength and stability. Other efficient methods of stretching include head and shoulder rolls and exercises using an inexpensive exercise band to really pull and strengthen all the major muscle groups.
Exercise and general physical activity is the number one contributor to longevity, regardless of whether you have been exercising your whole life or only during the later stages. Exercising is not only about adding years to your life, it's about adding life to your years. Not only will you look better when you exercise but you will feel better too: energized, refreshed and inspired.
How To Stay In Shape in the Later Years of Life
how to get fit at 60 years old, exercise for 60 year old female, workout for 60 year old man, fit 60 year old woman, 60 year old body transformation, how to stay healthy while working nights, 60 year old woman body changes, can you be fit at 60, Stay In Shape in the Later Years of Life