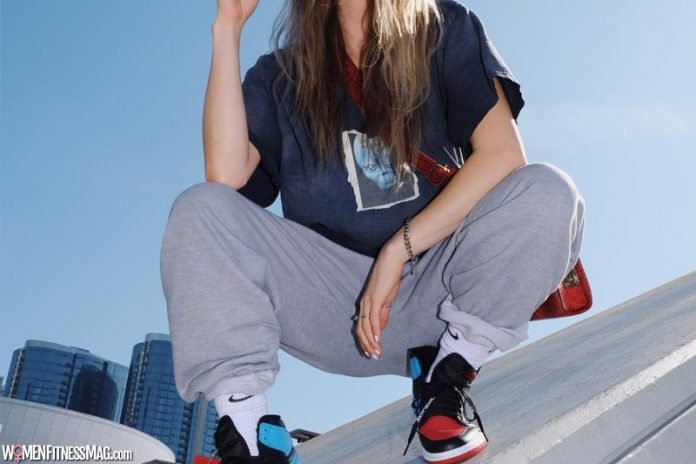 How to Wear Sweatpants Anywhere : If there's one thing we learned from the COVID-19 pandemic, it's how important it is to have cozy clothes when you're lounging around the house. Now that things are opening up again, you don't have to relegate your fav sweatpants to the back of your closet. You can wear your sweatpants anywhere, and not just because we've all stopped caring.
It's actually really easy to dress up a pair of sweatpants and make them look classy and formal. It's easier to do with fitted sweatpants than with baggy ones, but these days looking presentable is less about what you wear and more about how you wear it. Here's how to wear your sweatpants wherever you want to go.
Nail the Silhouette
A fitted pair of sweatpants is much easier to dress up than a relaxed, baggy pair. It's easier to style a fitted pair of sweats with a blazer, a fitted top, and a pair of high heels, for example. Choose a pair of slim-fitting joggers for women, leggings, or even yoga pants.
Go Monochrome
There's just something about a monochrome outfit that just looks classy — an all-black ensemble is always going to be chic, whether it's an LBD or a tracksuit. A monochrome look is streamlined and simple — but you can always mix things up a little by choosing a top in a different shade. Have some fun with a brightly colored tracksuit, or mix and match a more formal top with sweatpants in the same or a similar shade.
Style Your Hair and Put on Your Face
Part of what can make a pair of sweatpants look sloppy isn't the sweatpants themselves, but the rest of your presentation. If your face is bare and your hair is in a sloppy bun, you're going to look a lot more, uh, laid back than if you took the time to style your hair and put on makeup. Taking the time with the rest of your look will convey the message that your sweatpants are an intentional style choice. Try a bold makeup look and a polished hairstyle.
Don't stop with hair and makeup. Wear some nice jewelry to dress up the look. Layer on a few necklaces, put on a pair of statement earrings, and grab a few rings. Or sport a big, eye-catching piece, like a large watch or a statement necklace. Grab your nicest handbag and a stylish hat, if you can pull one off.
Wear Nice Shoes
Shoes are another piece of the puzzle. Grab a pair of strappy high heels, stiletto boots, or high-heeled sandals to take your sweatpants up a notch. Wedge sneakers are another great option if you want to keep things just a tad more casual. If you don't feel like wearing heels, grab a pair of ankle boots or dress flats.
Of course, you might tuck your sweatpants into a pair of combat boots or sport them with a nice pair of sneakers instead. A nice, clean pair of sneakers can look just as dressed-up as a pair of heels when the rest of your look is polished and put-together.
Try a Fancy Fabric
It's not just the cut of sweatpants that makes them look casual. It's also the type of fabric they're made with. Most sweatpants are made of cotton or polyester — common fabrics that are popular choices for casual clothes and activewear.
To turn up the glamour, choose a pair of sweatpants made in a more luxurious fabric, like velvet or satin. We associate these luxe fabrics with formalwear, so anything made out of them automatically looks more formal. Plus, because luxury fabrics tend to be stiffer than cotton and cotton/polyester blends, a pair of sweatpants made with something like satin will have a bit more structure than a slouchy cotton pair with elastic at the ankles and around the waist. Formal garments tend to have more structure than informal garments, so adding some structure to a pair of sweatpants only serves to make them look more formal.
Throw on Some Layers
You can dress up anything, even a pair of sweatpants, if you put on a blazer. Blazers also pair well with both boots and heels, which can work together to make anything look polished and presentable. A pair of sweatpants can also look more intentional when paired with other layers, like a button-down shirt under a sweater, paired with a windbreaker and a scarf.
Sweatpants aren't just for lazy evenings at home anymore. Today's fashion icons are sporting them everywhere, and you definitely don't want to miss out on this comfy craze.
Related Videos about How to Wear Sweatpants Anywhere :
25 Ways to Style Sweatpants that are CUTE AF!!
SWEATPANTS outfit ideas | how to style sweatpants
How to Wear SWEATPANTS Everyday & Get Away With It (Easy & Comfy Outfit Ideas)
5 Outfits, 1 Sweatpant | How To Style Sweatpants & Joggers
How to Wear Sweatpants Anywhere
how to style track pants women's, how to wear sweatpants girl, how to wear sweatpants fashionably, how to style sweatpants tiktok, cute comfy outfits with sweatpants, how to wear sweatpants that are too big,