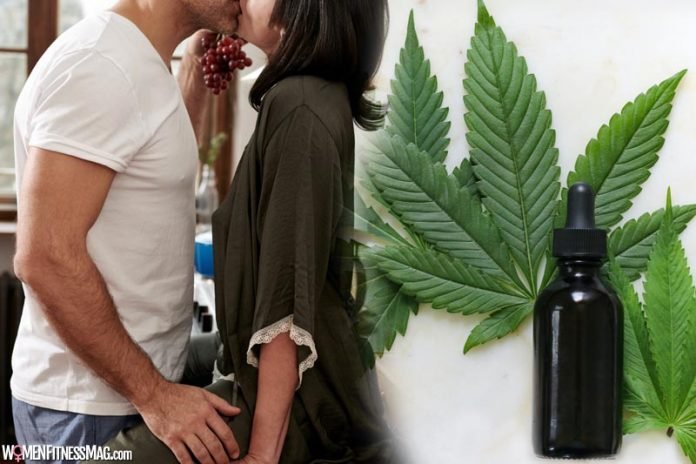 Ladies- Spice Up your Sex Life with CBD, the Magical Plant : CBD has been gaining traction in recent years. Now that you're a newbie who is laying your hands on this magical product for the first time, you're wondering where you can use these products.
Well, it'll come as a surprise to you, but there's CBD in everything you can use. Yes, it's there in your deodorant, toothpaste, and your serum. Even your grandma has been using it for her arthritis.
Now that you're familiar with CBD, Chances are reasonable; you've been witnessing the explosion of CBD tropics in your lubricants, gels, creams, and suppositories. Also, CBD is in your ingestibles – the gummies, capsules, oils, and tinctures. All these products are geared towards boosting your sex life and sexual well-being.
As it all turns out, cannabidiol has several applications in your bedroom. Yes, these can manage your hormones, alleviate pain, and can increase your libido. So, should this be a time to buckle up? Hell yes!
Pain- Let the Bygones, be Bygones


One of the oldest and best-known benefits of CBD is as an analgesic. Yes, it helps in relieving pain. And, CBD becomes a desirable product for women, especially when it comes to sex. Dyspareunia is a blanket disorder that associates with painful sex. This disorder is a barrier that keeps around 40% of women from taking pleasure from intimacy.

The number of ways in which tropical CBD comes to use is many. Lubricants work in enhancing pleasure and libido through blood flow increase. You can also consider CBD strains like pink bubba, whose potent- relaxing properties make it people's nighttime favourite. Also, the relaxing smooth muscle tissue, lubrication, and ease in tensions make them a thumbs up product.

Thus, it all comes down to CBDs as anti-inflammatory properties and muscle relaxing abilities. Yes, less pain, inflammation, and tensions all contribute to alleviating dyspareunia.

Achieving Orgasm


Do you feel your Big O has recently been out of reach? Or, do you think it is less satisfying? Well, it's time to consume CBD products if you're looking for longer and more satisfying orgasm results. But, how does the product do this?

Cannabinoids increase the flow of blood to tissues and improve nerve sensations. Know that both these products make sex more intensifying and pleasurable.

The anecdotal evidence suggests that CBD-infused lubricants to genitalia can increase the flow of blood to the area. Doing so increases sexual arousal and the intensity of orgasm.

Balances Hormones= Higher Drive


CBD works wonders in balancing your body's hormone levels. The increase in CBD thus leads to a better sex drive.

Know that the Endocannabinoid Systems helps in maintaining the overall homeostasis level in the body. Know that the ECS regulates systems and the organ functionality for balance and harmony. So, it's pretty safe to say the hormone and reproductive health is multifaceted.

Since CBD helps the body for dealing with stress, it assists in recalibrating hormones as well. While CBD supports hormone imbalance symptoms like insomnia, pain, anxiety, and insomnia, it also supports the underlying cause of these- STRESS!
Conclusion – Sexual Intimacy Initiated
The design of CBD products is kept to enhance sex and make it more pleasurable.
Researchers have been taking up ongoing research to evaluate potential benefits. Also, these products are worth trying since they do not have any side effects.
Related Videos about Spice Up your Sex Life with CBD, the Magical Plant :
Does CANNABIS Improve Your SEX Life
CBD and Sex – Coffee with Alice
CBD Can Improve Your Sex Life
Marijuana for Better Sex?
Ladies- Spice Up your Sex Life with CBD, the Magical Plant