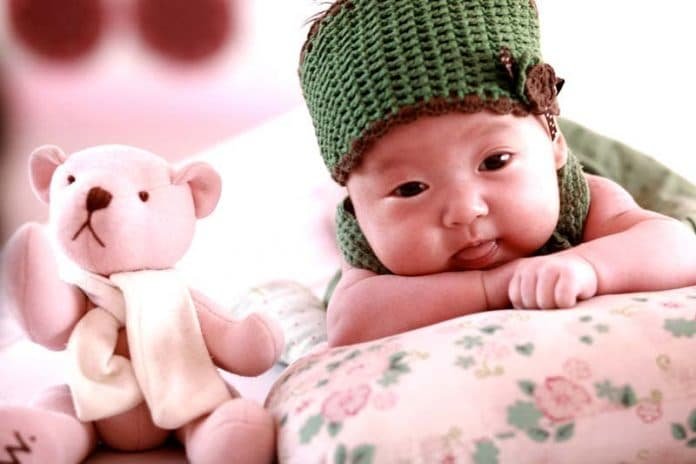 New born gifting Ideas : Every new born child brings along with them truck load of joy and happiness. They also bring in a lot of responsibilities to the parents, grandparents and all immediate relatives. Sharing our space with new born not only makes us run on toes but also keeps our mind ticking and active all throughout day and night, new born steal all the attention of the house.
While they bring a lot of joy, we would always want best for them. Here are a few options to gift newborn and children.
Zodiac sign pendants: For those of you who are want to gift the new born uniquely, a Zodiac sign pendant would be ideal.
Quirky lockets: Baby lockets with cartoon stars such as mini mouse, Mickey Mouse, Chota bheem and other famous cartoon characters are popular gifting ideas for children and new born.
Silver articles: There are a range of silver articles available at famous Jewellers like Vaibhav Jewellers; they include a birth certificate holder, silver photo frames, silver feeding bottles, silver baby food bowls, silver rattles and silver toys etc.
Birthstone (Gemstone): For children whose parents are particular about the astrology, they can plan to buy the birthstone ring or birthstone embed pendant.
Pearls: Pearls are another great item to gift someone, south sea pearls mala made in 18K Rose gold is an ideal option. Apart from these pearl studs, earrings, pearls chain, ring can also be explored.
Silver trinket bracelet: Silver bangles famously called as murugulu down south is the most basic item for gifting. Some come with a string of black beads and some in plain silver.
Vankis: There are very cute baby Vanki designs available online which can be made to order from reputed Jewellers. You can also explore their Vanki designs with weight and price and place an order in requisite size.
Personalized rings with inscription: This is a great way of gifting your kids on their milestone birthdays or graduation days with name and date inscribed on a ring. They are also a source of remembrance
Personalized silver Jewellery: personalization is the new wave and almost all silver Jewellery can be personalized with weight, design, size or with inscriptions.
Gold baby bracelets: Another choice one has in gold is the gold baby bracelets. These bracelets come with attractive mini charms to grab the attention of kids. They also come in different enamel colours making them naïve and kiddish. You can also click here to find the best online store for an amazing variety of bracelets including the baby bracelets.
Where to find your gift
All the above stated gifts can now be explored under one roof or with one click of the mouse at vaibhavJewellers. With a trusted Jeweller like Vaibhav Jewellers, now shop all your gifts in store and online too.  Vaibhav Jewellers carries with them three decades of Jewellery expertise that clearly reflects in their designs. A sound customer base is an indication of the trust they have earned over the years. Their key differentiators are:
Live video shopping: Their state of art live video shopping facilitates customers to shop from the comfort of their home.
Lifetime exchange policy: A lifetime exchange enables customers to rotate their Jewellery in exchange of the latest designs and help them stay trendy at all times.
Certified Jewellery: Vaibhav Jewellers offers uncompromising quality on all Jewellery purchases big or small. All their Jewellery are BIS hallmarked and come with a authenticity stamp.
EMI option: Now shop hassle free with the all new EMI option on select jewellery.
With a host of gifting options available, you can now usher your blessings on the newborn with all your warmth. When you know somebody who is having a child, buying the perfect gift is essential. If you also would like a child this Fertility Clinic in London can help just with that.
Related Videos about New born gifting Ideas :
Top 10 Best Gift Ideas for a New Born Baby Boy or Girl
Newborn Baby Gift Ideas | Gifts for Babies | Best out of Waste Box Ideas
Newborn Baby Gift Ideas
Baby gift ideas for girls
Baby boy gift ideas
BABY GIFT GUIDE | BABY GIFT IDEAS | BABY GIFTS HAUL
New born gifting Ideas
newborn baby gift set, newborn baby gift ideas for parents, gift ideas for babies 0-3 months, gift ideas for new born baby girl indian, personalized unique baby gifts, gift for baby girl 1 year old, gift for baby boy 1st birthday, useful gifts for new born baby,