Perfect New Years Eve Dress for Your Zodiac Sign : Picking your New Year's Eve look can be so tricky! Should you go for a relaxed- don't- care look or go all out and have all eyes on you all night long? We've come to the rescue with 12 New Year's Eve looks based upon you zodiac sign:
Perfect New Years Eve Dress for Your Zodiac Sign
1. CAPRICORN
For the most polished and ambitious zodiac sign of the lot, your outfit for New Year's Eve night should be as sleek and sophisticated as you are! Rock a black Faux Wrap Cut out Sleeves Bodysuit with a pencil skirt to show everyone that you work hard and party hard!
2. AQUARIUS
Laid back and easy going are the two words that describe an Aquarian best. No wonder you're every partygoer's best friend! A Luxurious Fringe Evening Dress is just the right outfit for this New Year's Eve party to show off your unfussy elegance.
3. PISCES
The dreamiest zodiac sign of the lot, a Piscean is a creature of comfort! If your New Year's Eve is all about lounging around and staying cozy, the Lovely Heart Sexy Baby Doll Dress is designed just for you!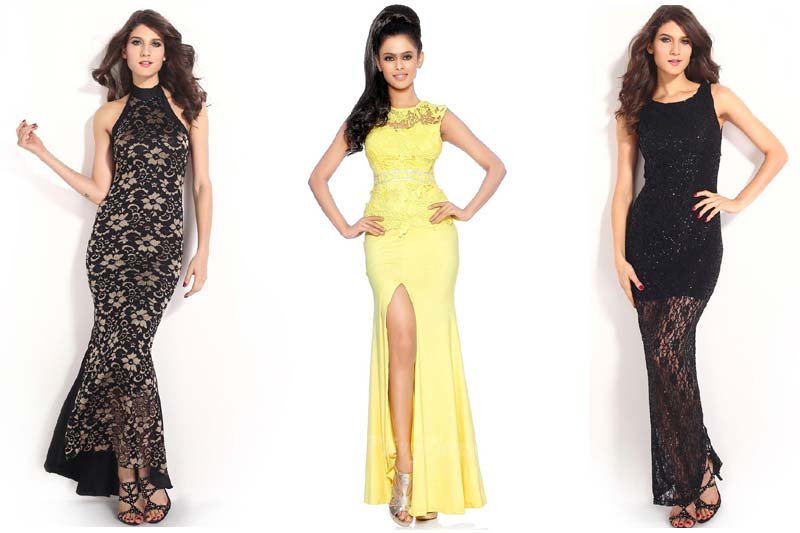 4. ARIES
Tough and fiercely independent, Aries girls love to make their presence known! Pair the Black Sexy Cutout Long Sleeve Faux Leather Bodysuit with high waisted pants or a mini skirt to make the most powerful look for this New Year's Eve.
5. TAURUS
Pragmatic and elegant, the Taurus girl loves mixing and matching her clothes to create the most versatile outfits. Why be any different this New Year's Eve?! The practical magic of White Sheer Floral Lace Long Bell Sleeve Bodysuit makes it a winner when paired with contrasting black leather shorts or a skirt.
6. GEMINI
Everyone's favorite social butterfly, Gemini girls know that variety is the spice of life and their wardrobe! Wear a short sequined mini dress with a pair of pantyhose with feather design that will highlight your legs and make them the main feature of New Year's Eve.
7. CANCER
The quiet charm and shyness that a Cancerian exudes gives them a magnetic appeal. This White Single-shoulder Zipped Asymmetric Dress with some metallic pumps will have everyone guessing who the quiet beauty is!
8. LEO
Everything about a Leo screams red carpet glamour and glitz! Make this New Year's Eve yet another excuse to show everyone you're made to strut your stuff down the red carpet. This Black High Side Slits Cutout Maxi Dress will help you look flawless for the paparazzi.
9. VIRGO
A Virgo girl loves the finer and luxurious things in life. Her taste in clothes reflects grandeur and opulence that makes her the go to for advice of what to wear for New Year's Eve parties. The long Sequin Dress in black cut's your body in the right places and creates an aura of refinement.
10. LIBRA
Love and romance is what a Libran lives for! Swoon over this Red-hot Sexy Dress with its cut out back design and make your partner look at no one else but you when the clock strikes 12.01!
11. SCORPIO
Scorpio women are sultry sirens who love to rock a smoldering look everywhere they go! A sexy Halter embroidered lace mini dress is just what she needs to make everyone wish they knew her by 2018!
12. SAGITTARIUS
For the Sagittarius woman who loves being colorful and travelling around the globe, her New Year's Eve look is no exception! Only she can rock a Sexy Rainbow Sequin Santa Costume, minus the hat of course.
Related Videos:
Perfect New Year's Eve Dresses
2018 New Years Eve Outfit Ideas
NEW YEARS EVE OUTFIT IDEAS 2017
New Years Eve DRESSES TRY ON!!!
NEW YEAR'S EVE OUTFIT IDEAS
Perfect New Years Eve Dress for Your Zodiac Sign
best dressed zodiac signs, most fashionable zodiac sign, zodiac fashion tumblr, zodiac signs fashion, most stylish zodiac sign, fashion horoscope 2017, zodiac sign dress, worst dressed zodiac sign, new years eve outfits 2017, new years eve outfits for cold weather, casual new years eve outfits, new years eve outfits 2016, new years eve outfits 2018, new years outfits 2018, new year style, new years eve sequin dresses,