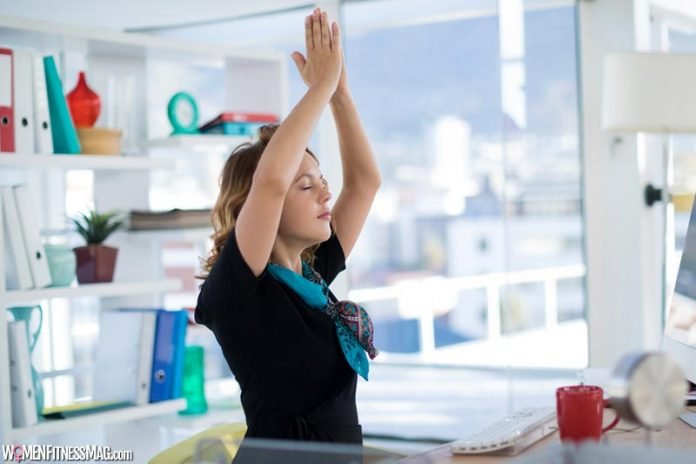 Simple Exercise For Working Women : Do you know what can be an ideal theory for a working woman? "Work-Life balance. However, it is easier said than done. Managing and experiencing it in real life is actually a task and very challenging. A working woman throughout the day plays a number of roles such as of a homemaker, wife, mother, worker, daughter, daughter-in-law etc. The day of the working women begins early and her nights end very late.
Between the busy schedule and heaps of work, women forget to actually take care of themselves. In 24 hours, they have their schedule to manage, social life, family life and what not can lead them to ignore their health.
Simple Body weights:


The first step is to identify your calling and we recommend the women to keep it slow. Remember how you learnt to walk? First, it was crawling, then balancing on the two little feet and then you wobbled but took your first very step. The similar process is with exercise. The first step is actually to assess your strengths and weakness properly. For the beginning, just include some of the basic bodyweight exercises. Such as one can always start with exercises of knees because the knees of the women tend to get weak the fastest as they age.

The following body exercise should be done initially, to get a hold onto your body:

– Push-ups: To actually build the strength of the upper body.
– Lunges & Bodyweight Squats: To strengthen the lower body.
– Crunches & Planks: To strengthen the core

The above-mentioned exercises will help in the just form a strong base, to help you get into the fitness routine. These exercises won't take more than 15 minutes of your crucial time and can be done easily right anywhere at home or in the office and does not need any special set up.

Getting Stronger & Stronger:


Once the woman has equipped herself to fit into the above schedule by performing these exercises daily without fail, they will keep improving and getting better each day. As it is always said, 'Practice makes a man perfect'. Hence, it is vital that the women don't even skip any day and keep progressing to become the better versions of them. Exercise machines such as spin bikes, rowing machine can give you better results. However, the same exercised cannot be done daily to get effective results. A few adjustments here and there not be done in the exercise routine, such as:

A few dumbbell sets can help in improving the resistance easily. Dumbbells are very affordable and available in the market. The best part is that take up very little space.

Using Dumbbells regularly has the following advantage on the body:

– Cutting fats: They are an effective way of cutting the fat from the body.
– The building of Muscles: Muscle building in the body is very important and the most difficult part, but with dumbbells, it becomes easier.

The best part is that doing a few exercises with the dumbbells won't even take much time of yours. Hence, this is one of the easiest exercises for a working woman. These exercises will not only make you sweat you out but give you internal as well as external satisfaction which will lead to overall happiness.

HIIT (High-Intensity Interval Training):


The HIIT exercise is a boon for women who are working and have time constraints. These are like the short burst sessions which include doing of exercises with very little rest, which means burning loads of energy in the less frame of time.

Here is an example of a schedule of HIIT:

– Butt Kicks: 45 Seconds
– Burpees: 15
– Mountain Climber: 30 seconds
– Plank Hold: 40 seconds

These are quick exercises which are most effective in keeping the body in shape. All of the above-mentioned exercises do not require any gym set up, and can easily be done at home with very little space as well.

Increase the overall level of activity throughout the day:


In a day, a working woman barely burns about 500-600 calories in any exercise session. However, the body consumes much more than what we burn. The daily activities like taking stairs instead of life, walk & talk etc. can unknowingly burn our calories and help the women to stay fitter. All one has to do is to be very cautious and keep moving whenever the opportunity comes.
Related Videos about Simple Exercise For Working Women :
Exercise at Your Desk! Seated Office Workout for Energy
10-Minute Exercises at Work
Chair Exercises for Working Women
Full Body Workout for Women – 20 Minute Daily Exercise at Home for Women – No Equipment
20 Minute Walk at Home Exercise
Simple Exercise For Working Women
workout for beginners at home female, daily exercise for womens at home, body toning exercises for females, workout for women, easy workout routine, workout plan for women at home, gym exercises for women, home workout for women,