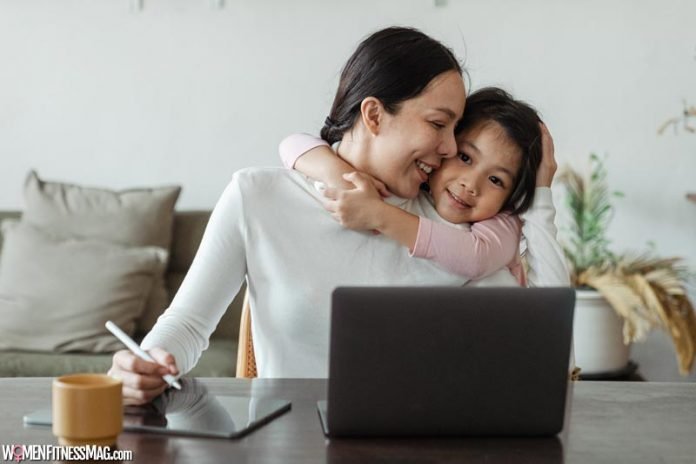 The Everyday Lifestyle of the Successful Working Mom : According to recent statistics, approximately 71% of mothers who have recently given birth to a baby are working. For many-many years women were struggling for their role and rights—the right to get a higher education, to develop their career, to have a baby and be single, to have a baby and still work, and so on.
You have probably heard the stereotype that after having a baby, women have to dedicate all their free time and life overall to raising kids.
However, having a baby does not exclude the need for personal and professional development, extending knowledge in different areas, building a career, and earning money independently of the husband, for instance.
Each woman has an individual indicator of happiness, and she can surely select the lifestyle she would love to follow. Being a working mother is popular and great. However, working mothers should create suitable timetables to spread their time wisely and keep up everywhere to avoid harm in any sphere of life.
We would like to dedicate this post to providing useful tips on how to arrange the everyday lifestyle for working moms to be successful.
Plan your day in advance
Surely, it is quite complicated to plan the whole month or even week if you are a working mother. Having a baby is full of different surprises and unexpected situations that may happen every day. So our first recommendation is to plan the next day, being ready to change the plans if needed. Be aware of the school schedule of your kids to consider it in your planning. To have your daily plans at hand, you can download the planner app to your smartphone or write them down in small notes, putting them in your working place.
Define the vital tasks that are required to be done tomorrow, with no excuses. It is also great if you can write down each activity, including how many hours you need and at what time of the day you are going to them. Thus, you will always have enough time to dedicate to your children and spend time with them with no interruption on work or housework.
Devote some time to yourself
No matter how many kids you have, one or three, you need to learn to allow time to yourself. It is essential to find at least one free hour to have a rest. There is nothing shameful in your desire to dedicate time to yourself, not your family, work, friends, and so on. It can be any activity that makes you feel relaxed—training, going to a manicure, having coffee in the park, and so on.
According to the writing service, the key to being a happy and successful working mother is to find enough time for rest. As a working mom, you have so many duties at work and home. So it is very important to slow down and relax to avoid burnout and even mental problems in the future. Keeping a good mood all the time is impossible without a qualitative rest.
Hire a housekeeper
The duties of your housekeeper will depend on the age of your kid. If he or she is old enough to attend kindergarten, then you can boldly hire a person who will help with the housework and cooking during the working days as well as on the weekends. Your housekeeper could also take your kid from kindergarten and spend some time while you are working.  If your kid is too little for kindergarten, and you need to attend the office, then you surely can hire a babysitter for your baby full-time. You can also find more useful content on how to select a babysitter on the custom writing service top writing reviews.
There are also cases when a babysitter also helps with the housework. So, when you will be arriving from home, you don't have to think of what you need to cook for dinner or how much laundry you need to do. All this stuff will be done, and you will have enough spare time to spend with your kid after a long working day away from him or her.
Plan activities with your family
Mothers who have been on maternity leave for a long time, like more than 6 months, are willing to dive into the working process completely. Probably, they missed being needed at work, executing daily tasks, communicating with colleagues, drinking coffee in the office kitchen, having lunch with teammates, and so on. However, it is essential to remember that you are still a mother, and you cannot spend the entire day working with no pauses. Here the skills of time management must be on the first place. They will be the basics to combine the work activities with being a good mom.
Thus, we are going to provide you with several recommendations.
The first one is to spend at the office, for instance, 2-3 working days, not the entire week. Therefore, your kid will feel you are near and won't be worried due to the changes in your timetable. Additionally, you will gradually flow into the working process, eliminating stress situations.
Another variant is to include family activities in your daily plan. Think of what and how long you can do with your husband and kids besides your work. It can be walking in the park, going to the cinema, going for a picnic near the town, whatever you prefer.
Join the community of working moms
Commonly, working moms organize themselves into communities like these from the best online writing services – HEYMAMA or Working Momkind. It is a great opportunity for several reasons. Foremost, this is another variant to spend time with yourself, with no work, housework, and kids. Secondly, such groups are created to support each other, share experiences, and provide tips and secrets on how to combine work and raising a baby.
Such meetings can be held once or several times a week to discuss your mood, your mental health state, your problems to find the solutions, and any topic you worry about. Besides, there, you can meet many new people with common interests and lifestyles. There are things that you cannot share with your husband or your friends, and colleagues. Maternity communities aim to provide you with the opportunity to talk about everything you want to learn about, from what babysitter is the best in your city to how to buy properties for sale in Sydney.
Get rid of all distractors
As for a working mom, following your daily plan is pivotal to keeping things organized and keeping up with your duties and responsibilities. During maternity leave, you could have different activities that are becoming useless when you start attending your job. Such things as spending too much time on your smartphone or eating your lunch for too long, may ruin your daily plans and be harmful to your work and personal life. Think of the daily activities that take too much time but have no point to get rid of them.
Conclusion
Taking into account the peculiarities of being a working mom, we can say that this is surely possible and not as complicated as you may think. Before starting work, we suggest you evaluate your priorities and wisely spread your time to the important spheres of your life. Balance is everything for a working mom to dedicate time to work duties, mom duties, and wife responsibilities. You may need some time to get used to your new lifestyle, and we are sure you will be able to become a successful mom as well as an employee.
Related Videos about The Everyday Lifestyle of the Successful Working Mom :
The Everyday Lifestyle of the Successful Working Mom
how to be a good wife and mother while working, working mothers articles, effects of working mothers on family, working mom struggles, balancing work and motherhood, working mothers statistics, single mothers balancing work and family, mom work life balance quotes,