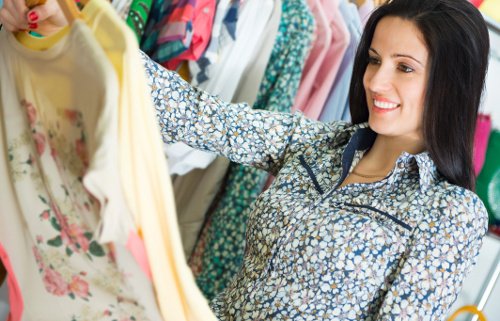 As the fall and winter months creep closer and the temperature begins to plummet, you may find yourself pulling out the same winter clothing you have been recycling for years. Whether you're a poor college student, a busy working mother, or merely do not have the funds/time to go shopping, follow these simple tips to reinvent your summer wardrobe without breaking the bank.

1. Layering up
This is one of the best tips for keeping warm in the winter months without spending any money. Layering means simply adding more clothing to your outfits. Wear your summer tank tops underneath cardigans or sweaters, add jumpers over dresses or wear two pairs of leggings – just add more clothes!
2. Tights
Tights are an excellent way to transition even the most summery outfit into winter. Team thick, woollen tights with summer dresses, skirts or even underneath shorts. You can also wear tights underneath thin trousers for those extra nippy winter days.
3. Knee high socks
A similar option to tights, however knee high socks can add more versatility. Not only can they be worn over tights or leggings for extra warmth, they can be worn with knee high boots to keep your toes extra toasty.
4. Long coats
Longer coats (which reach down to your thighs or knees) are a much warmer alternative to short jackets. Wear a long winter coat over your summer dress to transition it over into winter.
5. Scarves and gloves
This tip may seem simple, but just adding a simple scarf to a summer outfit can add a lot of warmth. Team a low cut t-shirt or dress with a thick woollen scarf and suddenly your summer clothes work in both seasons. Adding gloves to any outfit gives a winter feel and will keep your hands warm, which in turn will help keep your entire body from feeling the chill.
6. Thrift stores
Rather than paying high street prices for winter clothing, try picking some up at your local thrift store. Many stores have good quality jumpers, coats, cardigans and even boots for under $10. Not only are you saving money, you are recycling unwanted clothing. You may even come across amazing vintage finds!
No thrift stores in your area? Try  an online thrift store. While you may have to pay a little more for clothing than regular thrift stores (due to postage and packaging costs),online stores can be great place to find bargain pieces. Stock up on thick jumpers, sweaters and boots and keep yourself feeling warm (and stylish!) all throughout the winter months. Do you have any other tips? Share them, please.
Transition Your Summer Wardrobe into Winter