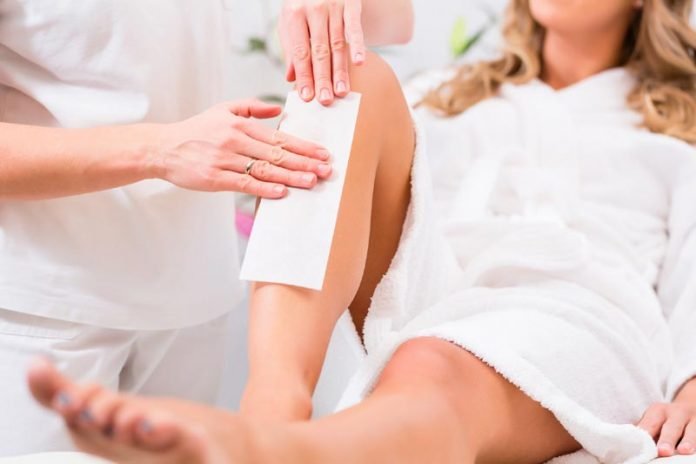 Waxing for Beginners: A Complete Guide : Time to shave — again. And again. No, thank you. While shaving might be the most common way to remove hair, most women find they have to shave every one to three days to keep their skin smooth. Who has time to do a full leg shave every day?
When you wax, you'll be able to be smooth and hair-free for up to 6 weeks. If you're a little worried about how to start waxing and say goodbye to the razor, that's totally understandable but we can help. Continue reading this article and we are going to talk you through the entire process and best practices.
Where All Can You Wax?
Whether you're using a sugar wax kit or another type of wax kit, you'll be glad to know that you can wax just about anywhere on your body. The parts of your body that you can wax include:
Eyebrows
Face
Legs
Arms
Back Abdomen
Feet
Bikini Area
If you've got a lot of hair, you're going to need a big wax kit. Don't worry, we'll let you know what you need to do your first wax job. We're going to talk about the different areas of your body and the best practices for each one.
Best Practices for Waxing Your Legs
When you're ready to tackle the massive project of waxing your legs, these following tips can help you keep from chickening out midway through.
You might be afraid that you're going to have to let your leg hairs grow out super long which can be problematic. You've got places to go, people to see and skirts to wear. With the new developments in wax, you don't have to grow your leg hairs out very long.
As long as you have about rice length hair, you'll be able to get the hairs caught in the wax so you can do the deed.
Make sure your legs are properly exfoliated about 24 to 48 hours before the wax job so the wax has the best opportunity to get a grip on those hairs. Your skin will thank you for the extra attention too.
Make sure you wax at the right time and leave around an hour or more to wax because your legs are going to take quite a long time. As you get better at waxing, you might take a little less time but that's not likely. Also, make sure that you don't wax whenever you're stressed out because it is going to magnify the pain.
When you're waxing your legs for the first time, you might want to use pre-coated wax. This makes the process a little shorter so you can get through it and have a win with waxing.
Best Practices for Brazilian Waxing
The ever-sensitive bikini area might be a sensitive topic but waxing is almost the only way to get the smooth look and feel that you want. You might be afraid to get bikini waxing near your nether regions but these following tips can help you get ready.
Know What a Brazilian Wax Is
Before you opt for a Brazilian wax, you should know that — everything goes. Yes, all pubic hairs will be gone from the front to the back. If you're going to try to do this at home, you might want to get a partner to come and help you with this.
You should at least schedule twenty to thirty minutes because it is going to take some time to get through the entire area.
It Gets Easier
Make sure you have enough hair left for the wax to pick up on and make sure you only wax and don't shave from here on out. The longer you've been waxing, the easier it is going to be and that includes the decrease of pain as well.
Make sure the room you're in is warm when you go to wax so that your body is relaxed and ready to release the hairs. Each time you do the wax, the easier it is going to be because the hair is going to start thinning as with other areas of your body.
Even More Tips for Beginners
If you've never had any waxing done before, you shouldn't try to do your own first wax job. Even if you just decide that you're going to have your eyebrows done or an upper lip, have a professional do your first wax so you can get an idea of how it is going to feel.
Make sure you apply the wax and pull the strip off away from the direction that your hair is growing. While some areas like your armpit will have hair growing in all directions, look to see which direction most of your hairs are growing and pull the strip off as quickly as you possibly can.
The faster you pull the strip off, the easier the hairs are going to come out. If you can't bring yourself to pull the wax strip off, you can always ask someone that you trust to come and help you pull the wax strip. Most people are more than happy to laugh at your pain as they pull the wax strip.
Learn About More Women's Issues
Now that you know more about waxing, why stop there? We have many other great articles on women's topics that can help you through life. Browse our site, find your favorite section, drop a bookmark and come back soon for more great reads.
Related Videos about Waxing for Beginners: A Complete Guide :
Waxing for Beginners
How to Remove Body Hair at Home! Wax ( Legs) at home | Do's & Don'ts| Super Style Tips
DIY SUGAR WAX FOR BEGINNERS | Hair Removal Hack
INTRODUCTION TO WAXING – HARD WAX BEGINNERS TUTORIAL
Waxing: A Beginner's Guide
Waxing for Beginners: A Complete Guide
waxing tips, brazilian wax, hot wax tips, soft wax tips, full body wax male near me, leg waxing tips, how to prep for waxing at home, how to do wax at home,