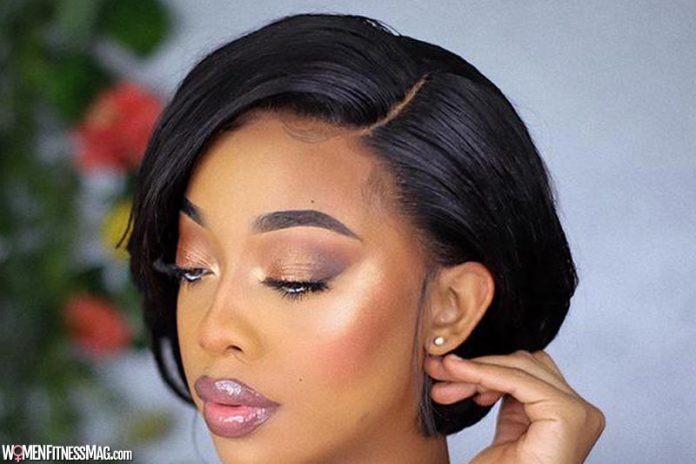 You Can Easily Get a Glueless Wig To Match Your Natural Hair Texture : Many wigs come with glue to affix them to the wearer's head for a long time. The primary fear for many people is whether or not the glue-attached wig would hurt their skin. The good news is that not all wigs require an adhesive to be installed.
This category of wigs are called "glueless wigs." In this article, we'll consider:
What is a Glueless Wig?


Glueless wigs, as the name implies, It don't need glue or other adhesives to stay attached. These wigs typically have combs, bands, or clips attached so that the wearer can attach the wig to their head without using adhesive. Hand-knotted glueless wigs provide a natural appearance and can be worn without any tape or glue to keep them in place.

Glueless wigs come in a variety of styles and colors. They could be straight wigs or curly wigs like our signature deep wave wig. You can also find them as lace wigs if you're going for the natural finish.

Can You Wash Glueless Wigs?


Your wigs will stay in good condition for a longer amount of time if you wash them regularly. So, certainly, it is crucial that you periodically wash your glueless wigs. This will help remove product buildup and dirt.

Steps:

Beginning from the ends, gently comb out the wig up to the roots until you can run the comb freely through the hair.
Pour lukewarm water into a large squeeze bottle and add premium shampoo. Flip it inside out, then immerse the wig in the soapy water for about five minutes.
Use cold water to rinse the wig. Make sure to remove all of the shampoo.
Apply some conditioner to the hair and let it sit for a while before rinsing.
Allow the wig to air dry on a wig stand away from direct sunlight.

Why Luvme Hair?


Where else can you get premium wigs made from 100 percent human hair at eye-boggling prices besides Luvme Hair? To further sweeten the deal, Luvme hair offers an Afterpay service. This means that you can buy any wig of your choice and pay later with no interests attached. You won't get an offer like this anywhere else. Many of our glueless wigs fall into the Afterpay Wigs section.

In addition to offering hair products of the best caliber available in the market, Luvme Hair also promises courteous and professional customer service.

Why Choose a Glueless Wig?


There are a lot of advantages associated with using a glueless wig. One of the major benefits is that they require less effort to attach and remove. To secure it on the scalp, you simply adjust a strap in the back. You can also remove it just as easily.

Glueless wigs are the finest choice if you don't intend to wear a wig for an extended period of time. Glueless full lace wigs are appropriate for those with sensitive skin because they don't contain any tape or glue and would, therefore, cause no allergic reaction.
Conclusion
Glueless lace wigs are generally simple to wear and reasonably priced. To suit your needs, we offer these wigs in a variety of colors and styles. You can easily get a glueless wig on our website to match your natural hair texture if you're seeking for one.
Related Videos about You Can Easily Get a Glueless Wig To Match Your Natural Hair Texture :
You Can Easily Get a Glueless Wig To Match Your Natural Hair Texture
glueless lace wigs with baby hair, glueless lace wigs human hair, how to make wigs look natural for beginners, 100% human hair glueless lace front wigs, glueless wigs, my first wig, 4c wigs human hair, glueless lace front wigs with baby hair,