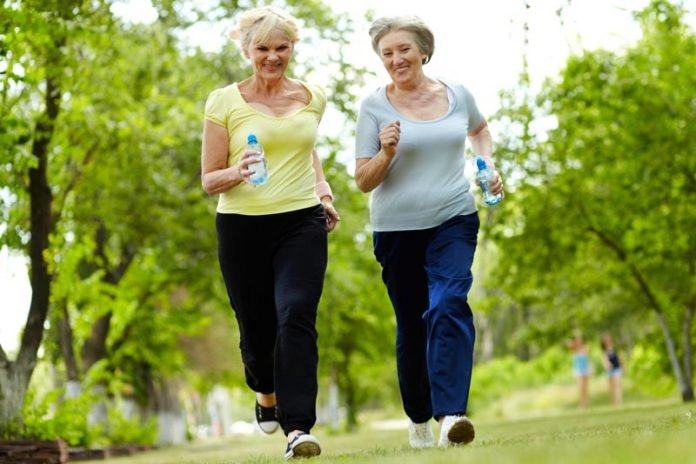 10 Easy Fitness Exercises for Older Women : Did you know that a loss of strength and stamina as we age is partially due to a lack of physical exercise?
As we get older, we tend to become less active. According to CDC data, by age 75 one-in-three men and one-in-two women don't get any physical activity. But this sedentary lifestyle increases the risk of heart disease, hypertension, diabetes, and other health issues.
If you want to start exercising but you think you're too old, look at some low-intensity programs. Strength training and cardio are two ways to reduce muscle loss and increase physical activity.
Start with these ten exercises for older women and discover the many benefits of finding an exercise program that works for you.
Light Walking


Love it or hate it, cardiovascular exercise is important for people of all ages. If you're unable to lace up your running shoes or swim a few laps in the pool, try light cardio options.

Walking is easy cardio if you haven't been exercising in a few years or if you're struggling with aches and pains. You can increase the intensity of your walk as you become more comfortable. A brisk walk is still an effective cardio workout if it raises your heart rate.

Did you know exercise is also good for the brain and your mental health? An exercise like walking releases endorphins, which may help relieve pain. A light intensity walk is a great cardio exercise for older ladies.

Jogging or Running


Increase your intensity from walking to jogging or running if you feel comfortable. However, both exercises put pressure on the joints, so don't overdo it. You may feel sore after an exercise routine, but you should never feel pain.

If you're experiencing pain, slow it down and talk to your doctor for exercise advice. You may need to visit an athletic store for fitted running shoes or buy a pair of orthopedic shoes.

Swimming


Because swimming is low-impact, it's viewed as one of the best workouts for older women. If you have arthritis, lap swimming is a beneficial exercise that builds your endurance over time.

Live in a colder climate or don't have access to a swimming pool year round? Look for gyms and recreational centers in your area with indoor pools. As a bonus, these places often offer senior discounts on membership plans.

Water Aerobics


If you aren't able to swim laps, you can still take advantage of the pool. Check your local gym or recreational center for senior-specific water aerobics classes.

Water aerobics programs usually feature both cardio and strength workouts beneficial to seniors. Not only are you raising your heart rate, but the exercises are easy on your body and fun, too.

Yoga


Although many people see yoga as a low-intensity exercise, there are types of yoga that work as cardio as well. Not only are you increasing your flexibility and toning muscles, but your heart benefits as well.

For example, power yoga features lots of movement and high activity exercises. Because yoga is so versatile, it's easy to find the right style to fit your physical needs and abilities.

Pilates


Pilates offers many benefits for seniors including increased balance and stability.

Pilates focuses on strength-building exercises much like yoga. It's also another low-impact program that strengthens your core and increases your stability.

Also like yoga, there are many beginner classes that you can sign up for if you're just getting started. Pilates also improves your bone density making them great workouts for older ladies.

Chair Exercises


Who says you need the gym to start exercising? If you are unable to attend workout classes or pay for a gym membership, there are many chair exercises you can do at home.

For these strength-building exercises, all you need is a chair.

– Chair Dips
– Chair Planks
– Leg Lifts
– Chair Squat

Aside from these moves, you can add basic stretches and floor mat exercises to your routine. Make sure you are comfortable getting up and down from the chair or floor or get someone to help you.

Range of Motion Exercises


If you use a care service like Care Builders at Home, you may already be familiar with some range of motion exercises. These simple movements help improve joint function and keep you flexible.

Low-intensity movements like these are ideal exercises for elderly women that are not ready for more intense activity.

Some examples of these exercises include knee bends, leg lifts, raises, and rotations. Your healthcare provider may give you a list of exercises to try along with instructions.

Dumbbell Training


As you age, you start to lose your muscle strength. The good news is that you can regain that lost muscle with the right training.

Weight lifting is the most basic form of strength training and helps you increase muscle. With this type of exercise, it's important to start light and work your way up to a higher intensity.

Try strength-building exercises like resistance training without weights first. If you're new to strength training, start with a goal of 10-15 minutes and see how you feel afterward.

Once you feel comfortable adding dumbbells, kettlebells, or medicine balls, aim for three sets of 10-15 reps. Adjust the weight or number of sets according to how your body feels.

Resistance Bands


Resistance bands are also an easy method of increasing your strength. Start with a low-resistance band and work your way up. You can use resistance bands at home, but you can also try them first at your local gym.

These are inexpensive and easy-to-use workout tools that help build strength and target different muscles. Resistance-band training is great for exercising your back muscles, which can be hard to target otherwise.
Get Active with Targeted Exercises for Older Women
Exercise is an important part of maintaining a healthy lifestyle, especially as you get older and begin to lose muscle mass. Make sure you find an exercise routine appropriate for your age and your physical fitness level. Remember, exercise shouldn't cause you any pain.
These examples of exercises for older women focus on building strength and endurance. From low-impact workouts to intense cardio programs, there's something here for every woman.
Looking for more information on staying healthy and active as you age? Check out our article on the benefits of physical fitness and read our fitness tips.
Related Videos about Easy Fitness Exercises for Older Women :
Exercises for a Stronger Body : How to Exercise When You Are Over 60
30 Min Senior Workout Routines – Standing & Seated Chair Exercise for Seniors, Elderly, Older People
Yoga For Seniors | Slow and Gentle Yoga
Easy Cardio Workout for Women Over 50
Fitness for the over 50's – Increase Flexibility
Fitness for Women Over 50
Exercises for Women Over 60 : General Fitness Tips
Best Exercise For Women Over 50!
Ab Exercises for a 50-Year-Old : Easy & Effective Exercises
Pilates for Older Women
10 Easy Fitness Exercises for Older Women
exercise routine 50 year old woman, best exercise for 55 year old woman, workout for 60 year old female, exercise for 50 year old woman, weight training routines over 50 female, weight training for over 50 female, exercise for older women, strength training over 50,