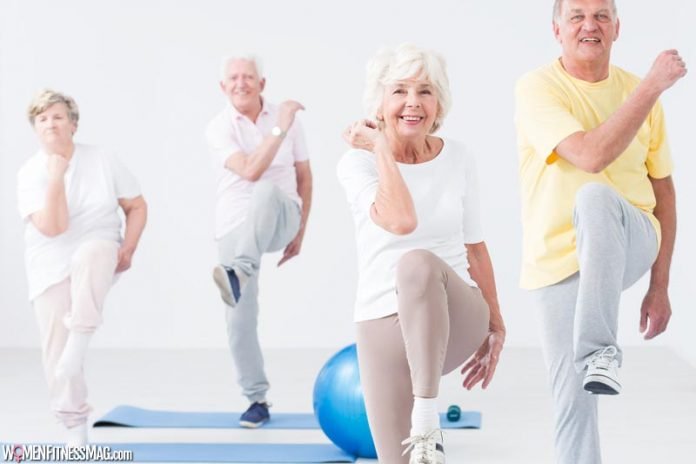 5 Types Of Group Exercise For Seniors : It can be hard to get into exercising, especially if you have never been a really active person. But getting older is no excuse to stop exercising altogether. It can be hard to motivate yourself to exercise when you get a bit older, so you should try exercising in a group instead of exercising alone. There are a lot of things that you can do in a group so that you can work out with your friends and feel good while doing it.
Dancing


Dancing is a great form of exercise for people of all ages, but it is great for seniors who want to get up and move as well. You don't have to be young or able-bodied to enjoy dancing, because people with physical impairments can still have fun dancing, because you can adapt the moves to your level of ability. Dancing has also been used as a form of physical therapy for disabled seniors who need to exercise, because it can be very low risk, and can even be conducted from a chair if the participant can't stand! Best of all, dancing is usually done in a group or a class, so you don't have to dance by yourself to have a good time and get some exercise.

Walking and Jogging


If you want to get some exercise each day, but you don't want to do anything too strenuous, you should try walking or jogging. Walking is a great form of exercise for seniors to try because it doesn't require any equipment, so anyone can participate in this form of exercise from wherever they are in the world. You can start walking or jogging by yourself, or you can invite a few friends to walk with you and create a walking group. Walking is also a great activity for seniors who reside in one of the nursing homes like Banfields Aged Care, because you can get a bit of exercise with your neighbours whenever you feel like it. And if you feel like challenging yourself, you can progress to a bit of a jog, which will work your body even more than a walk.

Aerobics


Aerobics is a great form of exercise for seniors, because it allows you to build muscle and maintain your weight, without hurting your body. Aerobics is great for seniors, because they can pick and choose the stretches and exercises that they want to do, based on their own abilities. It can help to improve your posture, flexibility, as well as build strength throughout the body which is why it is a great overall body workout. Aerobics can be done in the home from the comfort of your living room, like many people did in the 1980's or you can take a class in aerobics as well. There are specialised aerobics classes for seniors offered at many gyms and community centres across the country, so if you want to join a class led by a professional and make friends while you work out, aerobics is the right choice for you.

Swimming


If you are a senior who loves watersports and wants to get a great workout in the water, you should try swimming. Swimming is a great form of exercise for seniors because it is very low-impact, so there is a low risk to straining any muscles throughout the body while you work out. Water aerobics is also a great form of exercise for seniors who love water, because it allows them to work their muscles like you would with regular aerobics, while being supported by the water around you. Both swimming and water aerobics can be done by yourself or in a class or group of people, so you can be social while you exercise, which is something that many seniors love about getting involved in water sports.

Yoga


Yoga is a great form of exercise for people young and old, which is why it is a great form of exercise for seniors to participate in. Yoga is great for seniors because it can help with many of the common issues that they struggle with daily such as imbalance, arthritis, joint stress and other types of pain and restrictions that can make it hard to move. This is because yoga helps you to stretch out some of these problem areas and relieve some of the pain that you may feel as you get older. Yoga is also great for stress and anxiety, because it helps you to feel more calm and tranquil after each session. Yoga can be done at home by yourself, or it can be done in a class or with a group of friends, so it is a great way for seniors to meet new people while they try to achieve a healthy body and mind.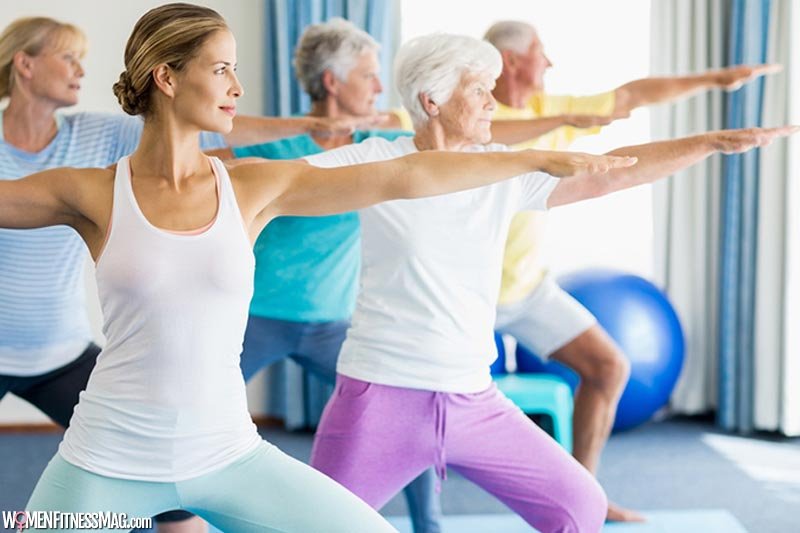 It is never easy to start exercising by yourself as a senior, so starting to exercise in a group with a few familiar faces can be a great way to get yourself out there. The key is to find the right exercise for you based on your ability and personal preferences, so that you get the most enjoyment out of each workout. It can also be a lot of fun to work out in a group with other like-minded individuals, so if you're thinking of starting a new form of exercise, now is the time to start!
Related Videos about Types Of Group Exercise For Seniors :
Exercises for seniors to improve balance and prevent falls
Senior Fitness
Flash mob seniors, Senior Exercise Class, chair exercise, exercise choreography older adults
Stronger Seniors Strength – Chair Aerobics DVD Video, Elderly Exercise, Chair Exercise
Group exercise on ball games for Ageing Seniors Elderly
5 Types Of Group Exercise For Seniors
why is it important for older adults to exercise?, senior exercise ideas, best exercises for seniors over 70, exercise for seniors over 75, workout routines for older adults, group exercise class ideas for seniors, senior exercise programs at home, senior fitness, exercise for over 65 years, aerobic exercise for elderly, attainable generic exercise schedule for someone over 65, floor exercises for seniors,