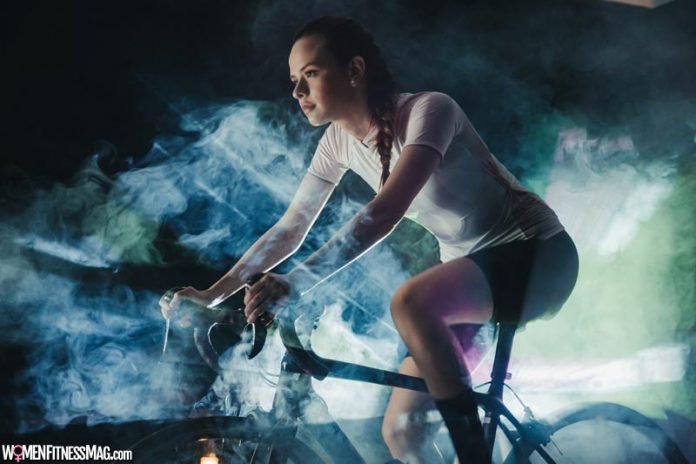 How to Start Biking : What's the hottest thing on two wheels? You, says a poll: About 45 percent of bike owners age 28 to 45 are women. "These days, there are more cycling groups and biking products for women, and more bike shops are catering to newbies, which continues to draw ladies in," says Erin Sprague, women's product manager for Specialized Bicycles. It's also a super way to get in shape: You'll sculpt your lower half and melt fat. "Cycling is a great low-impact aerobic activity, and you can build your cardio without the pounding," notes exercise physiologist Carl Foster. And if the new celeb-studded cycling studios are any clue, biking is the coolest, most female-friendly trend around. Come along for the ride!
Is It a Good Fit?
Ensuring you have a proper bike fit will help prevent injury, boost performance and improve your overall riding experience," says Matt Gehling, a pro bike fitter for Trek Bicycle. The best thing to do would be to head to a local shop, like this Seattle mountain bike shop. The experts that work in the shop will be able to help you select the bike that fits you best. Anyway, let's move onto the basics:
Handlebar width: Your hands need to be aligned with the bony bumps on top of your shoulders. If your handlebar is too wide, it ups your risk of neck, shoulder, back and/or wrist issues.
Handlebar height: Depending on your flexibility, you want your back to be relatively flat. If you have to round it, raise the handlebars.
Reach: This is the distance between your seat and the handlebars. Sitting upright may seem more comfortable at first, but it actually increases the pressure on your back, making it harder to pedal. Leaning forward a little will engage glutes and create power. Your shoulders should form about a 90-degree angle between your upper arm and torso. Keep elbows slightly bent.
Saddle width: Match yours to the width of your pelvis/sit bones. You can have this measured with a saddle-fitting tool at a bike shop.
Seat height: You should have a slight bend in your knee at the bottom of the pedal stroke, and when you fully extend your leg, with your knee locked out, your heel should dip to about 3/4 inch away from the ground.
Pick your perfect ride
Looking for a set of wheels? Before you go shopping, consider how you plan to ride (for fitness, fun or racing) and where (roads, paths, mountains), says Janette Sherman, women's marketing manager for Liv/Giant, a company that designs bikes exclusively for us ladies. These suggestions will steer you toward your best match.
If you'll ride mostly on roads
Look for:
A drop handlebar: It offers more options on where to place your hands and keeps you comfy on longer rides.
Endurance road geometry: This form places your body in a higher (less aerodynamic) position that's best suited for long, steady rides.
An aluminum or carbon frame: It's responsive and light and can tackle both hilly and flat routes.
Plenty of gears: You can use hard or easy ones when riding downhill, uphill or on flats.
One to try: With a lightweight aluminum frame, endurance geometry and eight-speed drivetrain, the Trek Lexa is a great entry-level road bike.
If you'll ride mostly on paths
Look for:
Rugged-tread 700c tires: Road tires are thin and smooth, while mountain ones are fat and bumpy – you want something that's in between the two.
Disc brakes: They let you stop more quickly on dirt.
Either a drop or flat handlebar: whichever feels better to you.
One to try: The Specialized Ariel Sport Disc crossover bike combines features of a mountain bike (hydraulic disc brakes, shorter-reach brake levers) and a road bike (women-specific aluminum frame and nine-speed drivetrain) to ensure a safe, comfortable ride.
If you'll ride mostly on mountain trails
Look for:
Knobby, large tires (either 27 1/2- or 29-inch): These make it easier—and more fun—to roll over obstacles.
Suspension: It adds bounce and cushions impact. Hardtail bikes have only front suspension; full-suspension bikes provide more stability, but they're also more expensive.
Disc brakes: They offer more grip when braking.
One to try: Designed with a new, women-specific aluminum frame and 27 1/2-inch wheels, the Liv/Giant Tempt 5 doesn't mess around. This hardtail bike offers front suspension, mechanical disc brakes and an eight-speed drivetrain.
3 Ways to bike stronger
"Muscle imbalances increase your risk of back, neck or knee pain and decrease your efficiency on the bike," notes celebrity trainer Michelle Lovitt. These moves strengthen your body and help boost your biking ability. Do 3 sets of 15 reps of each, 3 times a week, on days when you're not cycling. Start with a light weight (5 pounds) and build up.
Gear Up!: Seven essentials for your next ride
Buttery soft, moisture-wicking and supportive, the Pearl Izumi W Symphony tank is universally flattering. We also love the three roomy back pockets.
The Specialized Women's Aspire helmet is lightweight and vented, and it adjusts to fit any head—or ponytail—comfortably.
Transition from sneakers to cycling shoes with the women-specific Shimano SH-CW40. The breathable style has a recessed cleat that makes it a cinch to clip in and out—and easier to walk around off the bike.
The Topeak Deluxe Kit has everything you need to fix a flat—two tire levers, a mini-pump, six tire patches and a seven-function multitool.
Skip the tight short-shorts and try the comfy Terry Bella Knickers. They're flat-stitched capris with an elastic-free waist, reflective accents and a breathable, bulk-free chamois.
Carry energy gels, maps and your tire fix-it kit in the Timbuk2 Seat Pack XT saddle pack, which buckles onto the back of your saddle.
Reduce pressure on wrists and hands with Bontrager Solstice gloves. Highlights: gel foam padding and a soft terry thumb to wipe away sweat.
Related Videos about How to Start Biking :
Everything You Need To Know If You're New To Road Cycling
Things you should know when you first start cycling
9 beginner mistakes and how to avoid them
How To Start Cycling Over 50 (Or At Any Age)
3 Tips for Beginner Cyclists – Beginner Cycling Series
How to Start Biking
how to ride a bicycle for the first time, how to start cycling to lose weight, bike riding tips for beginners, beginner cycling training app, how to start cycling at home, cycling benefits, cycling for beginners training plan,