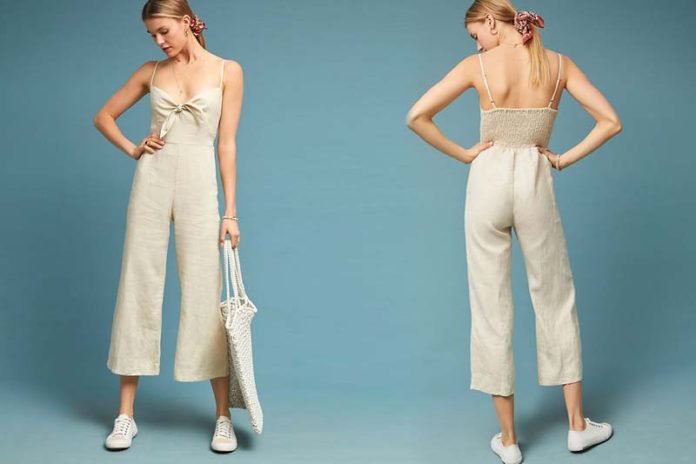 Quintessential Linen Jumpsuits For Women This Summer : Most people don't like the summer months. It is too hot and humid outside. You cannot wear tight clothes comfortably. Putting on makeup becomes difficult. Above all, picking the right clothes for summers is a considerable challenge.
Loose clothes will offer an unflattering look. Sticking to pastel shades becomes somewhat dull after few days. But tight and too loud garments are not an ideal alternative, especially if you need to remain outdoors for most of the day.
Is there any way to get the best of both worlds? Can you achieve the correct balance of between comfort and style? No need stress too much! Here, you will learn about special attire that will become your best friend for summers. It is none other than your trusted jumpsuit.
Evolution of jumpsuits in the fashion world
It is difficult to imagine that a garment that is a must-have for fashionistas was never meant for the fashion industry. This one-piece suit was initially crafted for skydivers. Yes! It was a uniform for these daredevils and helped to keep their bodies insulated when falling through clouds. In time, fashion designers took inspiration from this uniform and created unique attire that was destined to take the style market by a storm.
But the evolution of jumpsuits did not stop at that. After the full-length jumpsuits won the hearts of fashion lovers, the shorter jumpsuit versions were introduced. These were called rompers. In the beginning, these were used as night dresses due to its short length. As society became broad-minded, rompers proudly took to the streets. Since then, there was no turning back for rompers and jumpsuits.
Linen jumpsuits are ideal for summers
Linen is a natural fabric that is very soft and comfortable. It is eco-friendly and keeps people fresh during summers, especially in humid countries. Linen soaks up sweat fast.  Apart from that, it allows smooth passage of air. In recent times, linen surpassed cotton to attain the "best fabric for summer" title. Linen jumpsuits are available in different colors, shapes, sizes, and designs.
The best thing about this outfit is it never goes out of fashion. Dress it up, and you can look gorgeous in any party. Dress it down to attain a casual feel. A solid colored, narrow fit linen jumpsuit will look dapper in the office boardroom as well. Whether you are in for some "fun under the sun" or a "super serious mode," linen jumpsuits are your go-to attire.
All-purpose wrapper jumpsuits
Wrapper skirts and tops need no introduction anymore. But by the end of 2017, wrapper jumpsuits and rompers were all set to make their grand entrance into the world of fashion. It is one of the leading trends of summer 2018. The soft texture of linen makes it an appropriate fabric for these wrapper jumpsuits. Opting for sleeveless wide-legged onesies will suit casual events, while short sleeved, narrow-fitted or cropped jumpsuits are ideal for professional space.
Pinstripes and polka dots are in fashion
Do you often feel that you have nothing good to wear to the office? Congratulations! You have the makings of a perfection fashion icon. Not wanting to dress up during lazy summer mornings is common. For those days, you need to keep pin stripped, and small polka dotted linen jumpsuits handy. Blue or black pinstripes on white, cream or light yellow are ideal for hitting the work floor. The same onesies will come in handy if you need to attend a party in the evening. Wipe off your nude office lipstick and give your lips the fiery red hue. Just throw on a bold colored jacket, change the shoes and accessories, and you will look like a perfect diva.
Floral and graphic prints are in
Linen does not have a shine, like silk or satin, due to the nature of its fabric. It makes it difficult for bold colors to pop on this material. If you have too many solid colored jumpsuits, then purchase linen onesies in floral or graphic prints. Floral prints add lots of colors to the dress and bring out your fun side.
Whether it is a summer wedding or a quick rendezvous with your gal pals, you can never go wrong with these pieces. To add some volume, layer it with linen or silk jackets in contrasting colors. Sleek accessories will add elegance to your overall look.
Sleek black jumpsuit to replace LBD
Can you think of anything other than your trusted LBD on your date night? If you have a sleek black jumpsuit with a straight neck, and noodle straps, then you can ditch the same old LBD with ease.
Accessorize with black heels, a golden clutch bag, an elegant watch and dangly earrings. You can be rest assured that your partner will not be able to take his eyes off of you. The jet black, fitted jumpsuit will highlight your curves in the right places, and provide a wild sensuality, without much skin show.
So, what are you waiting for? It is the right time to book that fantastic linen jumpsuit from the preferred online store. Hurry up! Linen jumpsuits are trending this summer. Stocks are dwindling fast. Most people, who keep a close look at the latest fashion trends, have already started collecting the best pieces.
If you want to become a revered fashion icon in your school or college, then shun your lethargy, and embark on a jumpsuit shopping mission to acquire the best among the rest. These outfits, when paired with proper shoes and accessories will help you to shine from dawn to dusk.
Related Videos to Linen Jumpsuits For Women:
DIY I How To Make A Jumpsuit I Valentines Day Outfit Inspiration
Jumpsuits Fashion ideas – Best in the List
jumpsuits for womens street style trend
Jumpsuit Pairings
Hauls of Women's Linen Blend Jumpsuits
How to sew a linen Jumpsuit
Quintessential Linen Jumpsuits For Women This Summer
linen one piece jumpsuit, linen jumpsuit zara, white linen jumpsuit, linen jumpsuits rompers, denim jumpsuit, linen overalls, linen romper womens, striped linen jumpsuit, Linen Jumpsuits For Women