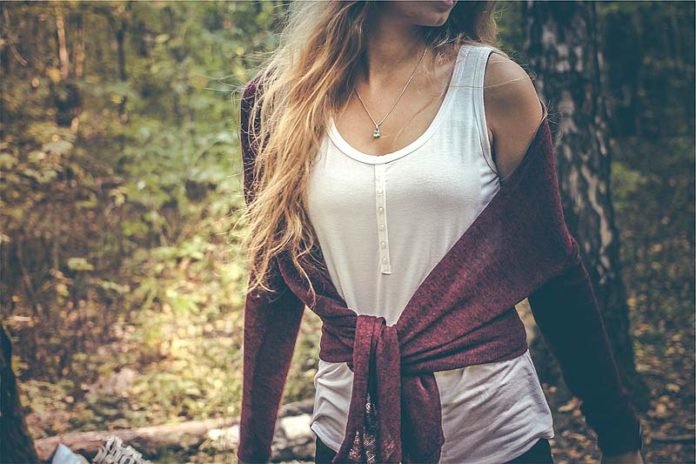 7 Hot Outfit Ideas For Summer 2018 : Seasons change and so do our clothing choices. Summers are an absolute delight for fashion lovers. It brings along a large variety of clothing options. No longer are you obliged to wear a coat over your pretty dress. Summer is the time when you can finally show the hard work you have done to achieve that perfect figure and your clothing choice play an equally important role in the same.
Not just that, summer brings along fun-filled weekends, high-end parties and exciting beach trips and pool parties. If you are looking forward to all of this, then I am sure you must also be looking forward to refreshing your wardrobe for all of this. Different occasions demand different looks and the good news here is that you can achieve all of this within your budget using some smart ways!
Here we bring you top seven hot and exclusive ways to refresh your wardrobe with Hot Outfit Ideas For Summer 2018 :
1. TANK TOPS
Another great choice, when it comes to including stuff for summer in your wardrobe, would be blended pattern tank tops. Although trending for quite a while now, tank tops have not gone out of trend and neither will in the near future. Available in floral prints, bright, and blended patterns, tank tops are a great choice for casual weekend parties and beach outings. In case you're going for a vacation, opt for tank tops in light, breathable fabrics that makes a comfortable travel attire.
2. NATURAL FABRICS
Summers bring scorching heat along. The best choice for the season would be to stick to natural fibers. Synthetic stuff would make you sweat more ultimately ruining your look for the day. Natural fabrics are a win-win situation. A plain white cotton shirt with a pair of comfortable trousers makes a stunning look for any occasion. Shirt dresses are making quite a rage and makes for a perfect attire when you want to throw a chocolate and wine party on a cool summer evening. Plain cotton long dresses or short frocks are equally appealing.
3. SUMMER BOOTS
The best way to look stunning in a casual shirt and a pair of shorts is to sport them with ankle boots. Whether you are trying to carry a tomboy look for a day out with your friends or a formal look for a day in the office, Lineman boots won't let you down. Having a pair of boots is an absolute necessity. Boots also go great with shirt dresses.
4. TAKE OUT THOSE DRESSES
No clothing item shouts summer holidays louder than a pretty dress. Perfectly designed for summers, dresses can never be out of fashion. Having gained the title of 'classic day-to-night summer outfit', dresses are something you can skip while finalizing your summer wardrobe. Bright colored, floral-print dresses are another variant of hugely popular for summer. Pair them with a lace or steel-boned corset for a fierce, statement look. Complete the look with killer heels and accessories with tassle or drop earrings.
5. SHOULDER SHOW OFF
Off-shoulder tops are a must-have for any girl. Come summers and you can't just carry high necks or round necks with that much comfort. May it be the heat or the humidity; round necks are not a summer thing. Here is where off shoulder tops come to your rescue. Hot in the trend, an off shoulder top is just the right piece of clothing for summers without showing much skin and offering a great fashion appeal at the same time. A perfect example of an elegant yet casual everyday look, this is the best thing you can add to your summer wardrobe if you have already not got it there.
6. REPURPOSE
Clothing resale sites Poshmark and Thredup can come to your rescue. Throwing old stuff or stuff that has been worn many times can appear monotonous. Giving old stuff a break or pairing them with new stuff can help you get brand new dress ideas without spending a penny. Try adding a stylish bag or a fun scarf to your old outfits to instantly amp them up for a sophisticated look.
7. ACCESSORIES
Lastly, wardrobe is not just about clothes. Accessories play an important role as well. A stylish watch, a pair of shades, sunglasses can elevate your look instantly. Occasion centric accessories are a must-have. Bold, colorful statement jewelry for a day out with your girls can be the most valuable addition to your wardrobe this summer. If you're looking forward to a summer getaway, don't forget to pack your all your essentials in a stylish travel bag, to make a perfect accessory while serving a purpose as well.
Related Videos to Hot Outfit Ideas For Summer 2018 :
Lookbook Spring / Summer 2018! Outfit Ideas, Pretty Dresses, Stylish Handbags!
SUMMER, WHERE YOU AT? ?☀ OUTFIT IDEAS 2018
Beat the Heat WITHOUT SHORT CLOTHES | Summer Outfit Ideas
Latest Summer Dresses & Outfit Ideas Fashion Trend 2018 | Summer Fashion Lookbook
Summer 2018 Outfits & Lookbook | Summer Trends 2018
2018 Trends| Wearable & Affordable Outfit Ideas!
Simple Casual Summer 2018 Outfit Ideas
18 Hottest Trends of 2018 ⋆ What To Wear in Spring/Summer?
10 Best WEARABLE Fashion Trends of 2018!
7 Hot Outfit Ideas For Summer 2018
summer outfits ideas, casual summer outfit ideas, summer outfits 2018, summer outfits 2018 women, summer outfits 2018 pinterest, casual summer outfit ideas 2018, cute summer outfits 2018, summer outfits with jeans, Hot Outfit Ideas For Summer 2018