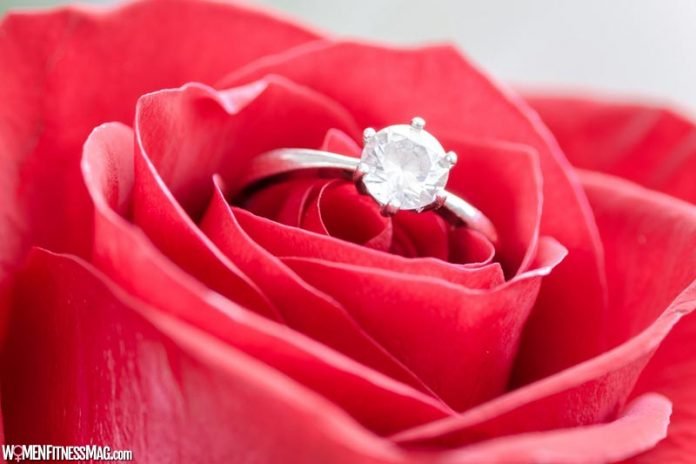 Should You Use a Solitaire Ring to Propose? You've been with your partner for a while, you're sure they're the one, and you're ready to propose. Congratulations – it's a big step! But in order to have the perfect marriage proposal, first you need to find the perfect ring.
When you're shopping for rings, you may want to look at a solitaire ring. These simple settings can allow your stone to take center stage, shining as purely as your love. Read on to learn more about solitaire rings and whether you should propose with one.
What Is a Solitaire Ring?
A solitaire ring is any ring that uses one central stone in a setting and no additional stones. The name comes from the singular stone that serves as the centerpiece of the ring. This stone can come in a variety of different shapes and sizes, which we'll discuss more later.
Solitaire rings tend to have a classic, elegant feel to them. Because there's only one stone, you may want to splurge for a nicer stone that will shine in such a simple setting for a diamond. There are also a variety of setting styles you can choose from for solitaire rings, ranging from a simple pronged setting to a more ornate wrapped halo setting.
Different Shapes
Solitaire rings can use a variety of different stone shapes, depending on the look you want for your ring. A solitaire setting can be a wonderful way to make sure the cut of the stone really shines, so if you know the cut is important to your partner, this may be a good choice.
Round and oval stones will have a very elegant look, while stone and rectangle stones will look more luxurious. Princess and marquise cut stones will be a little more ornate and may do best in a solitaire setting so as not to get overshadowed by the other stones. If you want to go with something a little more lighthearted, a heart-shaped stone can also work well in a solitaire setting.
Wedding Band Options
One of the best things about solitaire engagement rings is that they offer a versatile range of options for wedding bands. With rings that involve other stones, you really need to go for a plain metal wedding band. Otherwise, you lose the beauty of the engagement ring in the glitziness of the wedding band.
But with a solitaire stone, you can use a wedding band with additional stones to dress up the solitaire. You can start with a halo of diamonds if you like or add stones as you go through your married life together. You could begin with your two birthstones and then add birthstones for your children as you begin having them.
Find the Perfect Solitaire Ring
A solitaire ring can be a gorgeous choice for an engagement ring. They are simple and elegant, and with the right stone, you'll be able to focus on the brilliance of the gem. And you have a wider variety of options available to you for wedding bands.
If you'd like to read more awesome articles like this, check out the rest of our site. We have content covering sports, business, entertainment, and more. Check out the rest of our lifestyle articles to discover amazing tips for improving your life today.
Related Videos about Should You Use a Solitaire Ring to Propose?
How to Choose your Engagement Ring Design (Part 1 – Ring Material)
How to Choose your Engagement Ring Design (Part 2 – Number of Prongs)
How to Choose your Engagement Ring Design (Part 3 – Prong Tip Designs)
Should You Use a Solitaire Ring to Propose?
engagement rings, engagement ring and wedding band rules, how to wear engagement ring and wedding band, all in one engagement wedding ring, no wedding band only engagement ring, engagement ring vs wedding ring reddit, do men wear engagement rings, proposal ring,