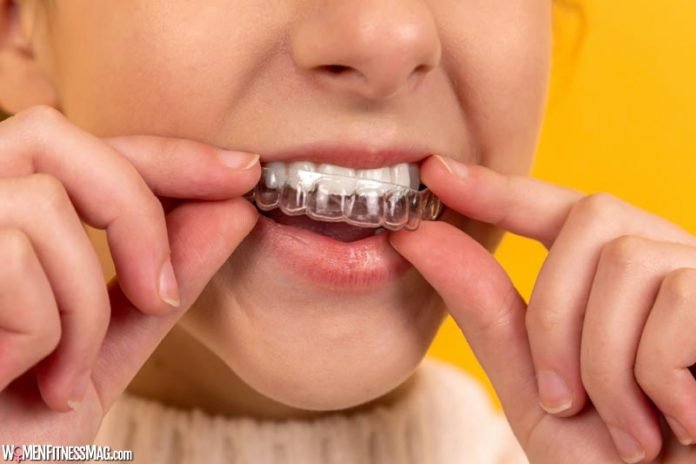 The Benefits Of Invisalign : When you think of orthodontics, what comes to mind? It's likely that you are picturing someone with heavy metal braces and colourful elastics. While traditional braces are still a treatment option for some people, orthodontics has come a long way in the last few decades!
This has created a whole new set of treatment options, including Invisalign clear aligners. This option is completely free of brackets and wires, which makes it the perfect choice for clients who are concerned about the aesthetic look of braces. If you are looking to straighten your smile, Invisalign is a great option to consider if you are looking for a more subtle choice.
Below are 10 benefits that you could see if you choose Invisalign for your orthodontic treatment:
Invisible


Invisalign trays are clear, which makes them nearly invisible while you are wearing them! If you are concerned about how you will look with traditional metal braces, Invisalign offers a great alternative that completely erases any worries about how you will look. This is one of the most popular benefits for adults who are looking to straighten their smiles discreetly.

Removable


Unlike traditional braces, Invisalign is a removable treatment option. This means that patients can remove their trays to eat and clean their teeth. Simply pop the trays out, enjoy your meal or do your brushing and flossing, and click them back into place when you are ready to go. The trays are designed to be easy to remove and replace!

Less visits to the orthodontist


Unlike with other orthodontic treatments that require more upkeep, the average Invisalign patient has an orthodontist appointment every 6 weeks. Save yourself some time and trips to the orthodontist!

Comfortable


Say goodbye to sharp metal brackets and poking wires, and hello to smooth plastic trays. Since there are no sharp or protruding pieces, Invisalign trays are comfortable to wear all day. Invisalign trays are also custom made for each patient, which gives you that extra 'made-for-me' comfort.

Safe


Accidents happen, and traditional braces can cause cuts and scrapes on the inside of the mouth in the event that your face is bumped. Even playing a wind instrument with braces can cause some minor scratches! Since Invisalign trays are smooth, they are especially valuable for individuals who play sports or an instrument, and are also a safer option for those who are clumsier than others.

Flexible


Invisalign trays are made of a patented thermoplastic material called SmartTrack®, which was created exclusively for Invisalign This material is flexible enough to fit snugly over your teeth, and strong enough to straighten your smile. The majority of patients feel absolutely no discomfort while their teeth move, and at most patients may feel a small amount of pressure during their first week of wearing the aligners.

Improved hygiene


Because Invisalign aligners are removable, it's easy to keep up your daily brushing and flossing routine. The trays themselves can also be cleaned to reduce buildup – just remove them, rinse with water, and brush with your toothbrush. Keeping your mouth clean is a great way to help your teeth and gums stay in top shape throughout your Invisalign treatment. This is important so that when your treatment ends, your smile is not only straight, but healthy too!

Improved dental health


Did you know that straightening your smile isn't just about the way it looks? Straight teeth can help your teeth and gums stay healthy, which helps maintain your dental health and overall health. By eliminating gaps and crowding, it becomes easier to care for your teeth and avoid any future problems.

Enjoy your favourite foods


One of the most dreaded parts about having traditional braces is the number of foods that you cannot eat. Forget sticky candies and treats, popcorn, starchy foods, or hard fruits like apples! If your favourite foods are in these categories, it can be tough to avoid them while you have braces. With Invisalign, this issue is nonexistent – just remove your aligners and enjoy all of your favourite foods!

Effective


All in all, the results tell you everything that you need to know. Invisalign is an effective way to straighten your smile, and treatment is often quicker than with other alternatives. The best part? You are left with healthier teeth and a beautiful new smile! Take a look online for some before and after photos to see the results first hand.
So what's the Invisalign process? Here's a simplified version:
Contact us to schedule your initial complementary consultation.
Once we determine if Invisalign is right for your specific case, we will take digital x-rays and impressions of your teeth to help us build your custom treatment plan.
After your plan is complete, you will get your first set of aligners! Your Invisalign aligners will be swapped out every few weeks to accommodate the movement in your teeth.
Finally, your treatment will be complete and you will have a beautiful new smile!
Is invisalign right for you? If you like the sounds of any of the above benefits, Invisalign may be what's best for your smile. Contact an orthodontist today to schedule your consultation!
Related Videos about The Benefits Of Invisalign :
What are the Benefits of Invisalign?
Health Benefits of Straight Teeth and Invisalign Clear Braces
What are the Advantages of Invisalign®?
11 Surprising Benefits of INVISALIGN
The Benefits Of Invisalign
invisalign benefits and disadvantages, 5 benefits of invisalign, health benefits of invisalign, top benefits of invisalign, invisible braces benefits, limitations of invisalign, benefits of invisalign for adults, invisalign before and after,