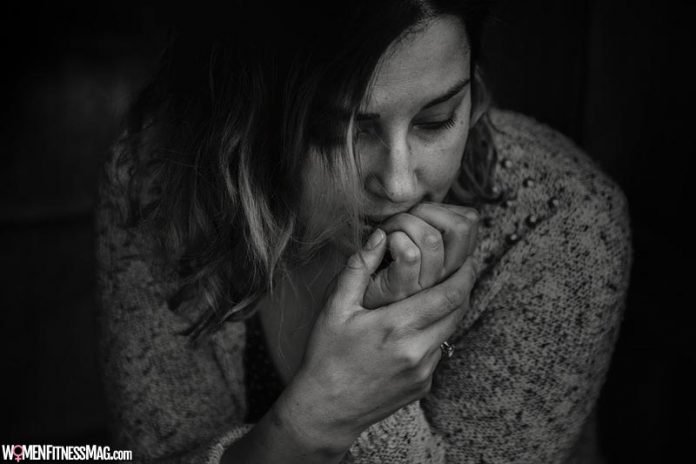 7 Common Anxiety Triggers to Know : Ever get the urge to escape everything, lock yourself in a toilet cubicle, and pull yourself together?
40 million adults in the U.S do too. And while we're in the same boat, we must notice anxiety triggers before they worsen.
Not sure what they are? Don't fret, we've got your back. Here are the 7 most common anxiety triggers.
What Do We Mean By Anxiety?
To re-cap, anxiety is a mental health condition that can trigger feelings of worry, fear, or tension.  It can also include physical symptoms like chest pain or over-sweating.
Other anxieties inducing symptoms include:
Muscle tension
Restlessness
Irritability
Restlessness
The most common anxiety triggers are:
Health Issues


A health diagnosis can be a root cause of anxiety-like discovering you have a chronic illness.

This trigger is powerful as it's immediate and produces an isolating, personal feeling. You can manage this uneasy feeling by addressing any concerns with your physician.

They will recommend therapies and provide useful resources to help reduce your anxiety.

Caffeine


A cup of joe works wonders in the morning but for some people, it can trigger or worsen their dehydration and anxiety.

This is because caffeine increases the levels of epinephrine in the body, one of the hormones that play a role in our fight-or-flight response. So kick your caffeine anxiety to the curb, and try matcha tea, lemon water, or herbal tea.

Financial Difficulty


According to a survey by the American Psychological Association, 72% of people in the U.S. felt stressed about money in the last month.

Whether you're in-between jobs or dipping into your savings, money can kick our minds and bodies into overdrive. To combat this, talk to a mental health professional or a supportive family member or friend.

Or approach your boss and ask for a raise if you feel like it's deserved.

Social Events


Does a room filled with strangers make you want to duck under your covers?

Don't worry, you're not alone. Many people suffer from social anxiety where the thought of small talk or interactions feels paralyzing. If you fall into this category, invite a friend or talk with a professional to find coping mechanisms like CBT.

Or prepare beforehand by relaxing your mind.  Stay busy by exercising, meditating, or catching up on your favorite TV show.  And once you're at the party, only ask open-ended questions.

Close-ended questions like "do you like basketball?" risks the conversation ending abruptly if the recipient says "no".

But if you ask about their interests with questions like "what do you do for fun?", they'll most likely to expand the conversation.

Still, swamped for non-awkward conversation starters? Then find something unique about the room or where you're standing. Maybe you're hovering by the nibbles section, and that could be your ice breaker.

Conflict Anxiety


Conflict anxiety means relationship problems, arguments, and disagreements trigger you.

If this sounds familiar, it's important to find conflict resolution strategies like viewing arguments as a constructive disagreement. And only use objective language instead of emotional.

Negative Thinking


Sometimes, your mind can skew your outlook on life. When you're upset or frustrated, your interior monologue can exacerbate greater waves of anxiety.

If you talk negatively towards yourself, freeze. You must be aware when negative thoughts arise so you can counteract them. For example, let your interior voice say "I'm recognizing this negative though. It's a story I'm telling myself and it's false."

Or try the displacement theory. To break negative thought patterns, replace it with something positive such as a personal goal. Doing so lets your pursuits dissolve any negativity.

Another way to manage negative thoughts is by associating with friendly, like-minded people who are trying to change their lives for the best. Negative people are draining so it's best to avoid surrounding yourself with them.

If there are no improvements, confide in a therapist as they will guide you throughout this process.

Driving Anxiety


A survey by Lloyds Bank Car Insurance found 70% of motorists occasionally feel fearful behind the wheel. Key triggers include driving abroad, traveling on unfamiliar roads, and night driving.

If you're not sure how to overcome driving anxiety, we've got tips. People suffering from driving anxiety feel embarrassed, isolated, and have convinced themselves everyone is superior on the roads.

A great way to manage this feeling is to take refresher lessons. Not only will they improve your skills but it will result in greater confidence behind the wheel.

Or before you drive, give your vehicle a once-over so you know it's in the best condition. Do the basics such as checking your tire pressure and ensuring your windscreen is clean on both sides.

And even though motorways are our safest roads, it can feel terrifying driving on them at a high speed. When you're going up the slip road, watch the traffic and plan where you're going to fit in.

Nervous drivers worry there isn't enough space but once you've slotted in a few times, you'll trust your own judgment.
And That's How Your Solve Your Anxiety Triggers
Anxiety triggers can leave you feeling scared and helpless but it doesn't have to be that way. There are many ways to squash anxiety-like reaching out to a professional or changing how you think about yourself.
If you have driving anxiety, take refresher classes so you're more confident. And monitor your diet to ensure you're not drinking too much caffeine as it can increase your anxiety.  Good luck!
Did you find this article helpful?  Check out more of our posts on everything from Health and Wellbeing.
Related Videos about Common Anxiety Triggers to Know :
6 Common Causes of Anxiety
Signs of Anxiety – Youth Anxiety Center
6 Unexpected Anxiety Triggers!
People Explain What Triggers Their Anxiety
Why does caffeine cause anxiety?
7 Common Anxiety Triggers to Know
what causes anxiety in the brain, what causes anxiety and depression, causes of anxiety disorders, why does one person cause me anxiety, anxiety triggers worksheet, anxiety treatment, medical causes of anxiety, causes of anxiety,